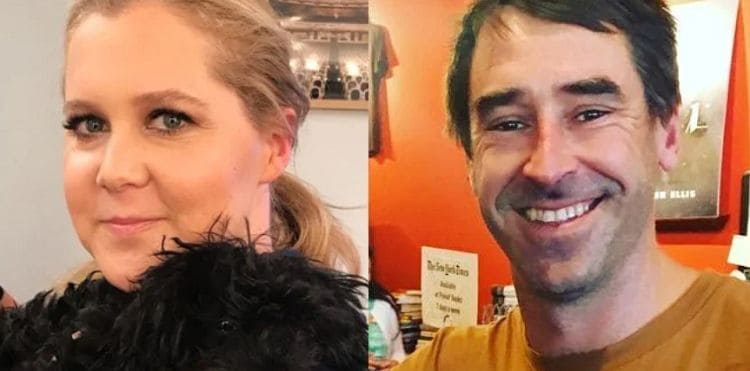 Chris Fischer is a chef who has become famous following his marriage to actress and screenwriter Amy Schumer in February 2018. He was born and raised in Martha's Vineyard, Massachusetts, and he has not intentionally embarked on a career in the limelight. However, he is now becoming better known since he started appearing on television alongside his wife in 'Amy Schumer Learns to Cook'. This Food Network series aired for the first time on May 11, 2020, and it was filmed in the couple's home during the coronavirus lockdown. It involves Fischer teaching his wife how to cook with their son's nanny filming her efforts in the kitchen. Although he is becoming better known, there are still plenty of things that people do not know about this chef. Here are 10 things you might not know about Chris Fischer.
1. Fischer Has Worked in Europe
Although Chris Fischer is now based in his place of birth, Martha's Vineyard, he has worked in many places before returning to his roots. He has even worked in two European establishments. The first of these was the American Academy in Rome. He then worked at The River Café in London. Despite working in some amazing locations and getting a fantastic culinary education, he is a Massachusetts man at heart. He now has his own restaurant in Martha's Vineyard, Massachusetts, called The Covington.
2. His Sister Introduced Him to Amy Schumer
Many celebrities meet their spouse at celebrity parties or film industry events. That was not the case for Amy Schumer and Chris Fischer. According to Pop Sugar, the pair met when Amy Schumer was visiting Martha's Vineyard, and her personal assistant introduced her to Chris Fischer. It just so happens that Amy Schumer's personal assistant is Chris Fischer's sister.
3. He Had a Whirlwind Romance with Schumer
When Fischer and Schumer met, Schumer had no intention of settling down with anyone and thought that marriage was something that would happen a long way into the future. However, she was absolutely smitten with him and knew that he was 'the one' within just a few weeks. The couple had only been dating for a few months when they married in February 2018 in Malibu, California.
4. He Had to Change His Son's Middle Name
Amy Schumer and Chris Fischer welcomed their son, Gene, into the word in May 2019. The couple chose the middle name 'Attell' for their son, which was a tribute to David Attell, an actor, writer, and stand-up comedian. However, Schumer and Fischer then realized that when you say 'Gene Attell', it sounds rather like 'genital'. Therefore, they decided to change his name to Gene David instead.
5. Fischer is Renovating His Family Farm
Chris Fischer is from Martha's Vineyard, and his family has lived there for more than 250 years. According to Romper, his grandfather bought Beetlebung Farm in 1961. Conde Nast Traveler featured the farm on their Instagram account in 2015, describing it as a place of interest. This farmhouse and the farmland now belong to Chris Fischer, and he has been renovating the property and land for several years. His intention is to create a destination restaurant at the property where he will cook using ingredients produced on the farm. In addition to growing produce, he also raises rabbits.
6. Living in New York Led to Him Growing His Own Food
For a while, Chris Fischer worked and Lived in Manhattan. He was working for Mario Batali, at Babbo which was an important part of his culinary education. While he was in New York, Fischer realized that he was passionate about growing food to use in his cooking. This led to him making the decision to return to his roots in Martha's Vineyard so that he could combine growing food with cooking.
7. Fischer Wrote an Award-Winning Cookbook
He has written a successful cookbook called Beetlebung Farm Cookbook, which was inspired by growing produce and cooking on the family farm. In 2016, this book won the James Beard Award for American Cooking. When interviewed by James Beard, he said that it was important to make the most of every opportunity. His recipes are all things he has made living in Martha's Vineyard and using the local produce. This is not the only award that this chef has won. While working at the Beach Plum Inn & Restaurant as an executive chef, he won the StarChefs.com Coastal New England Rising Stars Award in 2016.
8. He Had a Goat Called Kale
Elle reported that Chris Fischer once had a goat called Kale. Apparently, the goat was given this name because it wouldn't let anybody milk it until it had been given a bucket of kale. Fischer thought the goat was a bit annoying, so he decided to make a goat roast. This event was later one of the inspirations for his cookbook.
9. He is a Columnist
Fischer's cookbook was not his first foray into writing, as he has been writing for years. Since 2012, he has written a food column for the Vineyard Gazette. According to Cosmopolitan, most of Fischer's columns focus on the produce of Martha's Vineyard and cooking. However, he occasionally writes personal accounts of stories involving his family and friends.
10. He Enjoys DIY and Practical Tasks
Chris Fischer is a very hands-on person, and he enjoys getting stuck into practical tasks when he has free time. On his farm, he has got involved in the building work and carpentry. This has included building his own greenhouse and fixing the fences around the property. He also helps his friends with practical tasks. For example, he helped his friend to build a chimney, and he even hand-baked the bricks for the project.