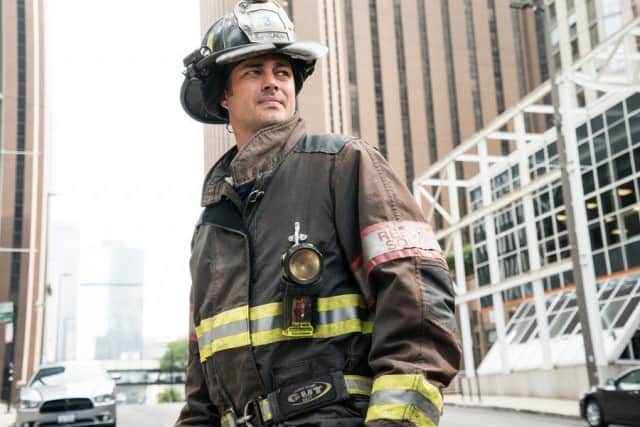 The Chicago Fire Season 4 premiere had two bombshells: Severide was stripped off his rank–and was considering leaving Firehouse 51 altogether–and Dawson was revealed to be pregnat pregnant. As a result, "A Taste of Panama City" opens with the latter and Casey announcing to Chief Boden that the mom-to-be wishes to be transferred to the arson unit. As her reason is not initially given, Boden is disappointed that Gabby seems to be throwing in the towel on her future as a firefighter after going through an ordeal of sorts to become one. Showing zero self control, Dawson ends up blurting out that she's expecting, but clarifies that the news won't be disclosed to anyone else. Of course, that doesn't happen, and the whole 51 family congratulates her and Casey within seconds.
Speaking of Casey, the firefighter gets a surprise visit from Nesbitt, who still swears to be one of the good guys and proposes they look for Katya's notebook together. Casey doesn't trust the man and rejects the idea. Later on, he meets Voight and shares his belief that the notebook might have enough dirt on Nesbitt to take him down, hence his need to retrieve the item. Contrary to Casey's wishes and potentially everyone's predictions, Hank advises him to let things cool down. It's easy to predict he won't.
In parallel, an internal investigation regarding the crack house that was set on fire by an entire neighborhood in the season opener kicks off. Being the team player she is, Gabby takes advantage of her new post at arson and inspects the scene, where her and her new partner determine that the fire was set by a pro. Additionally, she gets her hands on the files of the incident. This prompts Casey to see them, and as he studies the pictures, in particular those with sheet rock, he realized that Katya could have hidden her pages behind the recently put up sheet rock at the club. Of course, he's right, yet his breakthrough puts him in even more danger since Nesbitt had been tailing Casey. Now that the notebook has been dug out, the only thing that the corrupt man can do is put a bullet in the firefighter. Thankfully, that doesn't happen since Voight had put his own detail on Casey, therefore Chicago PD both stops Nesbitt and catches him red-handed.
On a whole different sphere, Hermann does a pretty good attempt to placate the new neighbors from Portland, who threaten the future of Molly's. Even though he plays nice, the woman, Athena, is rude and adamant in her efforts to shut the place down. The ridiculous behavior prompts the firefighter to say goodbye to Mr. Nice Guy and start a noise warfare. Translation: karaoke night at Molly's. Though, at least at this stage, irrelevant to the main stories, the sequence was funny and endearing. Hermann never fails to provide sweetness and soul to the show.
Severide's arc was slightly neglected throughout the installment, yet the right seeds were planted, which might lead to interesting developments. While I'll admit I'm biased, since Rachel Nichols is, indeed, one of my favorite actresses, I'm intrigued by her character, and I would love for her to have a long stint on Chicago Fire; however, considering how volatile (pun intended) Severide's relationships tend to be, and that things ended unceremoniously with his wife of three episodes, Britney (played by the former Gracelander, Serinda Swan), I am a little skeptical regarding the future of this new romantic development. That said, on a professional level, Kelly will have to somehow adjust to Captain Patterson or reconsider his future on 51, which has been a running theme on Chicago Fire. Quick side note: I personally love seeing Scandal alumn Brian White at 51; he's doing a great job as Patterson.
All in all, "A Taste of Panama City" delivered action, wit, and the expected camaraderie that Chicago Fire exhibits week after week. The drama has always been good at balancing the action elements/cases of the week, with the internal struggles of the members of 51, and this episode was no exception.
[Photo credit: Elizabeth Morris/NBC]