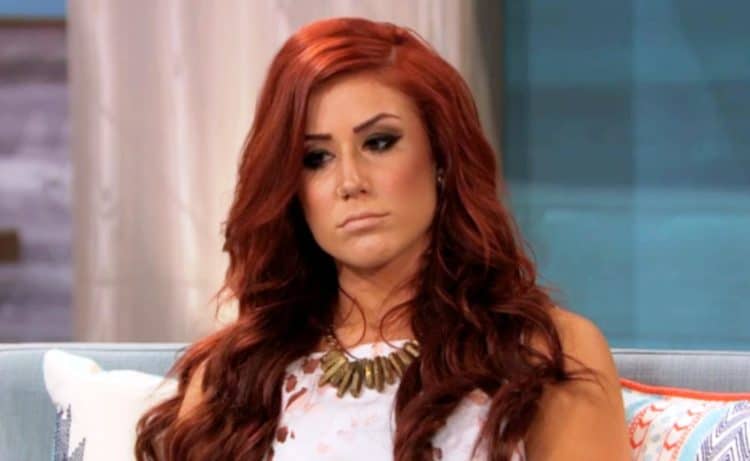 Chelsea Houska is an American actress who is best known for her role on the reality television show "Teen Moms 2." Since that time she's gone forward with a big fan base with an interest in knowing how she's doing these days. We checked up on her recent activities and we also looked into her past and learned quite a bit about her. Here are 10 things you didn't know about Chelsea Houska.
1. She's a South Dakota native
Chelsea was born in Vermillion, South Dakota. Her birthday is August 29, 1991, which makes her 27 years old. Her full name at birth was Chelsea Anne Houska, and she goes by the nickname of Chels for those who know her well.
2. She and Adam didn't work out
Chelsea was dating Adam Lind from 2008 through 2012. There were a lot of struggles in the relationship. Their daughter Aubree was born in September of 2009, but three years after Aubree came along the couple called it quits. They only had one child together and Chelsea found herself in the predicament of being a single mom.
3. Chelsea is now happily married
Chelsea Houska met Cole Deboer in 2014. They dated for a little over a year before he asked her to be his wife. She accepted and they had an 11-month engagement. The two were married on October 1, 2016. The couple has had two children together. In January of 2017, they welcomed their son Watson Cole DeBoer into the family. Next, their daughter Layne Ettie Deboer was born in August of 2018. The couple is raising three children.
4. Chelsea had her plate full
After the birth of her daughter, Chelsea went on to get her GED. A while after completing her equivalency studies, she went on to attend beauty school. It wasn't easy for her as a single mom, but things changed when she met her current husband Cole. He was an encouraging partner for her and the two put their heads together and developed a clothing line that is now featured on Itzy Ritzy. She went from struggling to make ends meet to being a business owner, and happily married with a wonderful husband and three adorable kids.
5. She's an influencer
Chelsea Houska DeBoer now works as an influencer. She promotes the Fabletics clothing line. This was not long after she gave birth to her third child and fans could not help but notice how amazing she looked. It didn't take long for her to get her pre-baby body back and there are a lot of people who would like to know her secret. She was showing off a variety of form-fitting stretch pants along with crop tops and she didn't look as though she had just had a baby. She looks truly wonderful these days and it's obvious that her new life is agreeing with her.
6. Chelsea had a severe bout of Mastitis
After the birth of her third child, Chelsea, at age 27, underwent a horrible experience. She developed mastitis. For those of you who are not familiar with this condition, it is an inflammation of the tissue of the breast and it can lead to serious infection. The breasts can swell, turn a red color and feel hot. It's also possible to develop chills and fever. She was absolutely miserable and it a great deal of pain, but the condition was eventually resolved.
7. She's extremely busy these days
Chelsea is busier than she's ever been. She's come a long way since the days of Teen Mom 2 and the reality star is always up to something good. Besides looking better than ever, she's managing her businesses while caring for her husband, her cat Tuna and three kids, but we can tell that she's loving every minute of her life.
8. Chelsea's fans can keep updated on social media
Chelsea is very good at posting regular updates on her Instagram account. If you're wondering what she's up to these days, you can stay informed by following her on her account, as many other fans do. She posts a lot of great pictures of herself and the family, and the captions let you know what she's up to. It's a great way to keep up to date on her life and her career.
9. Her Instagram fan base is in the millions
Houska has made a total of 1,606 posts on her Instagram account. She's very proud of the Itzy Ritzy line of clothing and you can see all of the latest fashions posted in photos on her account. She's also very proud of the fact that she's a wife and a mommy. When we checkout out her site we saw that she is following 790 fellow Instagrammers but what really blew our minds is how many people are following her. She has a total of 5.7 million followers.
10. Chelsea Houska has come full circle
Since she was a teen mom trying to find her direction in a very confusing world, she's gone from struggling to maintain a shaky relationship to being in a stable living situation. She's surrounded by love, happiness and the things that make life worth living. She has a partner by her side and a beautiful family. On top of all of this, as if it weren't enough, she also has a humungous base of fans who love her dearly and follow her on her social media accounts. She's smart, beautiful and has the world on a string. For those of you who were wondering where she is in her life today, it's in a very good spot.