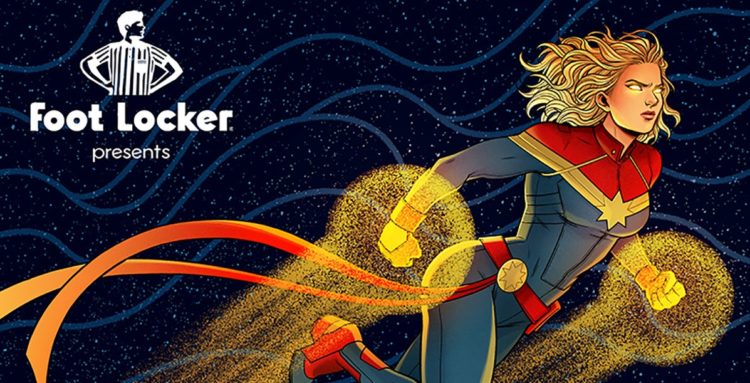 If there's one thing that people love to do when superhero movies come out it's to be inspired. At this point with Captain Marvel about to be released there's not much else but inspiration to be had when it comes to the many products and designs that are being created and shipped out by the dozens if not more. While some folks like to argue that women heroes have been represented just fine and even taken the lead at this point others will gladly say that Captain Marvel is another in a short line of female superheroes that's been needed for a long time now. The fact that Adidas has joined the line of those that have decided to celebrate her emergence onto the scene is something that speaks highly of the need that people have to see her represented in just about every possible facet of our lives that we can imagine.
For those that have been paying attention Captain Marvel merchandise has been running rampant throughout the last few months as more and more people have been coming up with one idea or another to tout the now-famous colors and motif that this particular hero is known for. While there might be a lot of critics out there that would gladly shoot down the growing legend that is Captain Marvel there's nothing to be said about the fashion that she's inspired. The sneakers that you can view in the link are actually kind of nice since they look pretty comfy and are able to show some support for the hero and the whole idea of the movie. Granted, it's a fashion trend that might not hold up all that long, but it's also one that a lot of people will no doubt enjoy just for the novelty of it. The whole idea behind supporting a fictional character isn't to shout your belief that they're worthy of idolizing, but to shout that when it comes to heroes they're worth talking about and enjoying in various ways because they're entertaining and, in a way, empowering.
Of course we know that superheroes are fiction, well, most of us at least, but that should never ruin the enjoyment of them or the manner in which we choose to flaunt our interest in them. These shoes might not be everyone's cup of tea but they're designed in a manner that's bound to catch the eye and the interest of many fans and perhaps allow them to add the shoes to their collection of hero memorabilia. They'd be a fine addition no doubt since they are rendered quite nicely and you might even be able to see Brie Larson rocking a pair of them if she felt the need. Considering how invested she's been in the movie that might even be a possibility seeing as how she's been gung-ho for the role ever since she was selected. But all in all they're nice shoes and seem like they'd be any collector's dream to have.
That being said it can also be credited to the designer as to how perfect these shoes are for the moment and how, despite seeming simple, the design might have come together. A lot of people might say that it seems like something anyone could do, but design is almost like writing in a way, things have to fall just right or it doesn't work. The moment that you get his idea is the moment that you start to understand that as simple as anything seems it becomes a lot more complicated when you don't know what you're doing or don't have any basis for the idea that you're trying to push through. Jen Bartel, the designer of the shoes, is a comic book artist and therefore knows something about design you could say since she's one of those individuals that has to understand just what it means to get the look and the design of something right so that people will accept it and not wonder what in the heck they're looking at. It can be said that she did her homework on this one since she got the colors perfectly and the alignment of everything on the shoes is done with the kind of balance that makes them work without seeming to be too much or too minimal.
Yes, it's kind of geeky to wear something depicting a favored hero, villain, or comic book series, but in the land of the geeks and nerds this is something that might not be an instant status symbol but, to those that know and those that care, it's something that makes their lives just a little more complete as they fully enjoy what they happen to care about. As a fellow geek/nerd it's easy to salute Jen and say 'well done'.
https://twitter.com/heyjenbartel/status/1103064029520629761