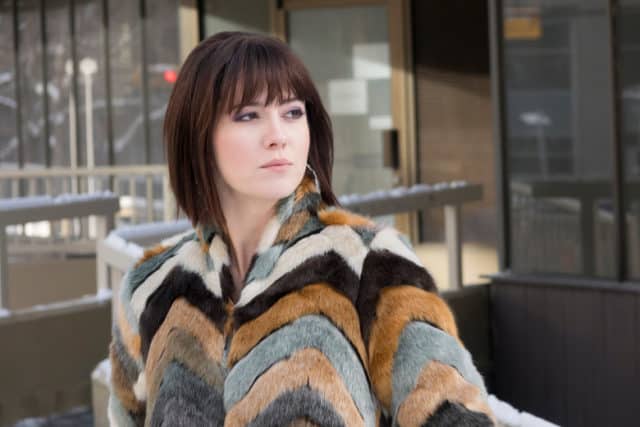 In the Fargo universe, there are good guys, bad guys, and middle of the roaders of weak moral fiber who are "turned" by situations. Season 3 does not disappoint. There is Gloria Burgle the hero, Varga and Co. who are the villains and Sy, Emmit, and to a point Ray who epitomize to the theory of moral relativism. They are good until life gets not so good, and then they show their true colors. In Fargo Season 3; however, we meet one unique character who came along and broke the Fargo mold, Nikki Swango. Her mixture of good and bad, darkness and light, gives Series 3 a female character without a badge whom we can appreciate for the force to be reckoned with that she is.
She's already a parolee
She has not ever held herself up as a paragon of virtue, as Even Ray tried to do in his job as a parole officer. She's already tasted the bitterness of life so she has no illusions to shatter, and nowhere to fall. This makes her the grit on the lens of how we traditionally see Fargo. She just wants to win bridge championships and survive. And she is true to her goals–whatever it takes. Notice how quickly she reacted and started loosening that air conditioner from the window. Yeah, Ray gave it the final kick but he would never have thought of that trick if not for Nikki. No moral dilemmas for her. She just bragged that the apartment was under a fake name so no worries.
She does make mistakes–like following Sy further into the deserted parking lot.
Unlike Peggy Blumquist, whom we are still trying to understand (how exactly do you run down a guy and go home and make Hamburger Helper with your victim still attached to the car? ) Nikki does not ever mentally "check out" when the going gets tough. She is a good contrast too for Lester Nygaard because soon into the series, we want him to pay for what he has done. Most fans would be okay if she got away with her murders. We don't want to see her in the back of a cop car getting a lecture.
Although Nikki Swango (her name itself is a departure from all of the "sons" and "gards" in the series) is not the reason for the stamp feud between the brothers, she is a strong catalyst. She is the reason that Ray wants to be more than a chump living in his brother's shadow. Nikki urges Ray to get his due and is essentially the brains of the operation. She rarely underestimates the stupidity of others. She helps Ray make that hilarious sex tape (does Emmit's wife not realize he has a twin brother and that's a clown wig?)
Nikki even handled that creepy, toilet bowl dining sociopath Varga like a boss. We like her style. Nikki Swango appeals to the survivor in every woman. We want her to come out on top. She gave us something different this series of "Fargo" and for that, we are rooting for her and credit her with saving Season 3 from becoming too predictable.