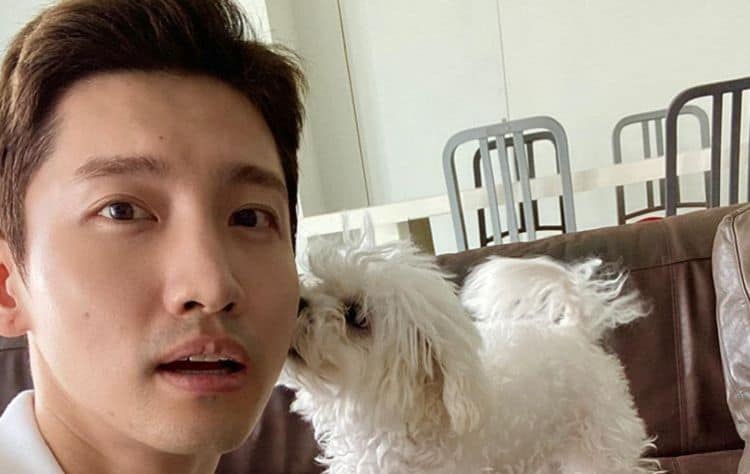 Singer, songwriter and actor Changmin, or Max Changmin, is somewhat of a household name in his native country of South Korea. Born on February 18, 1988 as Shim Changmin, this powerhouse of talent and drive, was scouted by SM Entertainment to come in for an audition, and the rest is history. After extensive training he became the second half of the acclaimed duo, TVXQ. From then on Chanmin's appeared in dramas, films, and produced solo work. in 2015, he fulfilled his compulsory military service by becoming a member of the military police. Chiangmin is an accomplished, creative force who enjoys life, seeks to always better himself, while believing that providing his fans with the very best is an honorable, keen and lifelong objective.
1. Changmin was Concerned He Wasn't Cool Enough
Fans of TVXQ have been patiently waiting for their idol, Changmin to release his solo album, so iHeart Radio interviewer, Stacy Nam, just had to ask why it had taken so long? Changmin replied by reminding fans how much time it takes for the group, TVXQ, to promote their own songs, concerts, that sometimes there just isn't time for both. Unbelievably, he also stated that he was concerned that he wasn't "cool" enough! Hard to believe, but as he states in the interview, "I would say to myself, not now, and push it back."
2. Changmin Immediately Knew That the Title Track for His New Album was the "One"
Chocolate is the title track of his first solo album of the same name. Naturally, with a name like "Chocolate" both fans and interviewers are more than curious as to what this means to Changmin. In the interview, he states that from the very first moment he heard the song, he knew this was going to be the 'one'. He heard the melody first, then wrote the lyrics for it afterwards. He also states that he didn't have to go far for creative inspiration, as he found the word itself both charming and inspirational, and that was all he needed.
3. Changmin Prefers to Eat Food Others Have Made for Him
During an online question and answer session, Changmin was asked which type of food he prefers, food that was cooked for him, or food that he's made himself. He quickly replied that it's definitely the food that others make for him that matters most. He enjoys the taste, and also complimenting the cook(s) of the meal. He does state that yes, it feels good if people compliment him for the food he's cooked, but eating what others have made is still better.
4. His Favorite Alcoholic Drink is Beer
During a GQ question and answer session, a fan asked what his favorite type of alcohol was. You'd think this would be an easy answer, but Changmin had a tough time fulfilling the question. After much pause, he stated that beer was the only one that came to mind. He said the most cans of beer he ever had at one time, was half a dozen. After which he fell right asleep once he had lined all the cans up in a neat and tidy row. A few seconds later he smiled mischievously and added that it sounded pathetic.
5. Changmin Describes What "Chocolate" Means
During an interview with the KBS show, Music Bank, they ask him about his new single, "Chocolate". Changmin states that it's comparable to how a man wants a woman, he craves he, desires her, as one would desire a succulent bit of delicious chocolate. He goes on to describe that it's a dance track. As for his performance on Music Bank, he jokingly tells his fans to pay close attention to his cool performance, his hair and fashion sense, and the beautiful set made for him, by Music Bank.
6. Changmin Describes His Evolution After 3 Year TVXQ Hiatus
The ever popular Korean singing duo of TVXQ reunited in 2018 after a three year hiatus from the business. During an interview with W Magazine, Changmin described how this three year hiatus was a positive influence on his creative and personal path. He states that maturity has unveiled a side of him that is "relaxed and natural" a more human side to their music. Now that he is older, everything from music to fashion are now centered more to who they really are, rather than being a simple show piece.
7. Changmin is the First Korean Nominated for the Japanese Hochi Film Awards
Changmin achieved a great honor, and that was to be chosen to receive the "Newcomer Award" from the prestigious Hochi Film Awards in Japan. As if this wasn't an honor enough, Changmin was also the very first Korean to be selected for such an award, and that was not something Changmin took lightly. The film is entitled, Fly With the Gold. In this film, he portrays a North Korean agent posing as an exchange student.
8. Changmin Believes in Truly Enjoying Everything He Does
Having spent most of his life in the limelight, you'd think that Changmin would have a snobbish attitude toward life, and take things for granted. But such is not the case. Changmin is a firm believer in gratitude and making each moment count, "Whatever I end up doing, I want to enjoy it". He knows that records are simply numerical values, and does not wish to be fixated on them. Instead, he wants to "…enjoy each stage so people watching can enjoy it too." He's certainly an idol that is devoted to his fans, and they are in turn, fiercely devoted to him.
9. Changmin Got To Throw the First Pitch for LG Twins
At one point in his life, Changmin had the strong desire to become a sports commentator. Why? So he could watch all the games for free! Known as a huge baseball fan, when in Los Angeles, he spent his time catching games. So when it came time to toss out the opening pitch for his very favorite baseball team, the LG Twins, it was as if a dream came true. He put on his LG Twins, personalized jersey, and hit the pitchers mound. After his pitch, he took a seat and watched the rest of the game with beer and chips.
10. Changmin is Extremely Proud of His Fellow Artists in KPop
During an interview with Stacy Nam for iHeart Radio, Changmin states that because of the internet, KPop music has exploded throughout the world. However, he also adds that it's not really about the internet alone, but the high quality content produced in their industry. In other words, what truly appeals to fans are the performances, the internet just brings in a wider audience. He goes on to say that if KPop music wasn't well made, that it wouldn't matter. He states he feels proud of the content this fellow musicians in his country create.
Tell us what's wrong with this post? How could we improve it? :)
Let us improve this post!