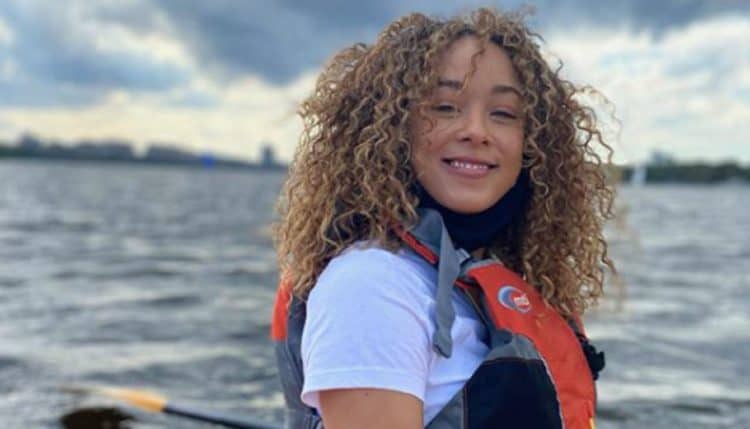 For nearly a decade, Chaley Rose has been working hard to carve out a path for herself in the entertainment industry. She got her first major opportunity when she was cast for the recurring role of Zoey Dalton in the series Nashville. Although that was one of her very first roles, Chaley showed that she could keep up with veteran actors like Connie Britton. Since leaving the show in 2015, Chaley has gone on to have a few TV movie roles Most recently, she appeared in the new Hallmark Channel movie, My Best Friend's Bouquet. With her career going in a very positive direction, I think we'll be seeing Chaley's name pop up quite a bit in the future. Keep reading for 10 things you didn't know about Chaley Rose.
1. She Is An Indiana Native
Chaley was born and raised in a small city in Indiana called Columbus. As you can imagine, it's not the best place to pursue a career in the entertainment industry. As a result, Chaley moved to New York City when she was a teenager then eventually relocated to Los Angeles which is where is based today.
2. She Has Always Wanted To Entertain
Acting is something that has always interested Chaley. For many years, however, she was determined to follow a more traditional path. When her parents got divorced when she was in high school, she decided that it was time for her to express how much she wanted to focus on a career as an entertainer.
3. She Isn't Afraid To Speak Her Mind
Chaley is very outspoken and she has made it a point to use her platform to raise awareness to things that are important to her. She told Media Village, "…this year with the climate of things, I've been very outspoken about Black Lives Matter, gender equality, and LGBTQ+ rights and quality[sic]…"
4. She Is A Musician
The character Chaley played on Nashville wasn't entirely an act. She actually is a singer and songwriter in real life. In fact, music was her first love and she started her career doing music. She hasn't released any original music yet, but I'm sure it'll be coming at some point.
5. She Loves Kickboxing
We all know the benefits of regular exercise, but feeling motivated to get up and go running or go to the gym can be a struggle for almost everyone. Instead of those more traditional workouts, one of Chaley's favorite ways to stay active is by doing kickboxing training.
6. She Loves Outdoor Activities
If you're the kind of person who likes to spend time outdoors, you know that nothing compares to taking in a breath of fresh air on a beautiful day. This is a feeling that Chaley deeply appreciates. She enjoys being outside and loves activities such as hiking, kayaking, and swimming.
7. SheIs An Aunt
There are lots of women out there who aspire to be the cool aunt, and Chaley has already earned that position. She has a young niece named River who she loves spending time with. Chaley wrote a heartfelt Instagram post for River's second birthday in which she said, " I've only been your "Aunt Chayee" for two years but somehow I've already forgotten what life was like before you were in it."
8. She Was The First Black Homecoming Queen At Her High School
Chaley Rose was the type of well-rounded student that lots of people aspire to be. She was involved in several activities including different sports teams and she was voted the school's homecoming queen. What makes her homecoming queen win so special is the fact that she was the first black student in the school's history to achieve the honor. After high school she went on to study International Studies at Indiana University Bloomington.
9. She Has A YouTube Channel
Chaley isn't technically a YouTuber, but she does have a channel. She started posting videos on the platform back in 2013. Her channel mostly consists of news clips of her mother, who is a journalist. She hasn't posted any new videos in over a year, but her channel has nearly 50,000 total views.
10. She Is Very Close With Her Parents
Divorces can be really hard on families. On many occasions, when parents decide to go their separate ways, the children's relationship with one of their parents suffers. However, that hasn't been the case for Chaley and her parents. She is very close with both her mother and father and they have always been her biggest fans. Sometimes, she share screenshots of the funny conversations she has with them, and it's clear that they have great relatinships.
Tell us what's wrong with this post? How could we improve it? :)
Let us improve this post!