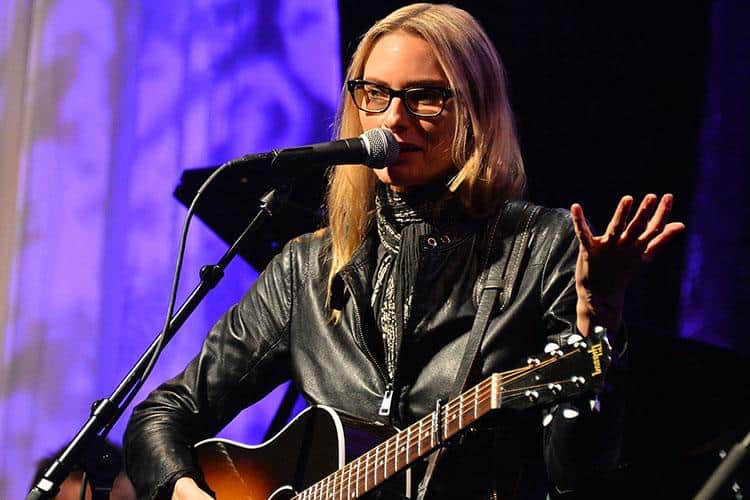 Many people would agree that music is one of the most powerful things in the world. It as the ability to break language barriers and tell universal stories. If there's one person who understands just how powerful music can be, it's Grammy Award winning singer/songwriter, Aimee Mann. She has been active in the music industry for nearly 40 years, and in that time she has grown to be considered one of the greatest sing writers of her time. Even though it's been three years since she released her last album, her friends will be ready whenever she decides to return with another project. Keep reading for 10 things you didn't know about Aimee Mann.
1. She Dropped Out Of Berklee
Boston's Berklee College of Music is considered one of the best musical programs in the country. Getting accepted was a big accomplishment for Aimee but she eventually decided that it wasn't for her. She dropped out and began to embark on her professional career.
2. She Operates On Compassion
It's no secret that life is hard, and that's exactly why Aimee Man chooses to live her life with compassion and empathy. She told NPR, "I think it is hard to be a person. It is really hard to negotiate relationships, it's hard to negotiate loss, it's hard to have perspective on your own problems, it's hard to break out of the habits and dynamics of your childhood. … And people aren't really naturally born with the skills to negotiate it. So I have a lot of compassion for people. Everyone's struggling in some way."
3. A Friend Suggest She Call Her 2017 Album Mental Illness
The process of picking the perfect name for an album can be grueling, but Aimee lucked up in 2017 when a friend casually suggested that she name her upcoming album Mental Illness. Although her friend was joking, Aimee decided that the name was too good to pass up on.
4. She Loves Squirrels
Squirrels are one of the kind of animals that most people don't think twice about. Sure, probably see a couple every time you go for a walk, but other than that they're probably not something you pay a lot of attention to. Aimee, on the other hand, really appreciates squirrels and often posts photos of them on her Instagram.
5. She's Working On A Musical
Aimee loves getting the chance to express herself through music and a several years ago she decided to embark on a new creative journey. In 2009, she announced that she had started working on a musical based on one of her albums but it looks like the project was never released. In 2018, sources reported that she had also began working on music for the Girl, Interrupted musical.
6. She Started Her Career In A Band
Lots of people are most familiar with Aimee for the work she's done as a solo artist. However, she actually began her career as a member in a band. After dropping out of Berklee, she joined a band called The Young Snakes. Shortly after that, she co-founded another band called 'Til Tuesday.
7. She Loves To Read
Just because Aimee dropped out of school doesn't mean that she isn't passionate about learning. Aimee has always been the type of person who loves to learn new things and reading is one of her favorite ways to accomplish that. She's an avid reader and occasionally shares her current reads on social media.
8. She Isn't Afraid To Share Her Political Views
Sharing your political views isn't always an easy thing to do, and that is especially true for people in the spotlight. Lots of celebrities shy away from sharing their opinions on certain subjects out of fear that it will hurt their careers. Aimee has never been afraid of that though. She is very open about her political beliefs and has made it very clear that she isn't a fan of President Trump.
9. She Loves Jazz
As an artist, Aimee's music is mostly classified as folk or pop rock. As a fan, Aimee loves to listen to jazz. She's a big fan of Miles Davis and often listens to jazz music as a way to calm her nerves. She told the Los Angeles Times that she has been relying on jazz more than usual since President Trump was put in office.
10. She Writes For 15 Minutes Every Day
Writing as many songs as Aimee has isn't easy by any means. Keeping the creative juices flowing is a challenge that every writer has to face at one time or another. Aimee's method to keep herself writing is to spend 15 minutes everyday with her guitar and try to work on some ideas.
Tell us what's wrong with this post? How could we improve it? :)
Let us improve this post!