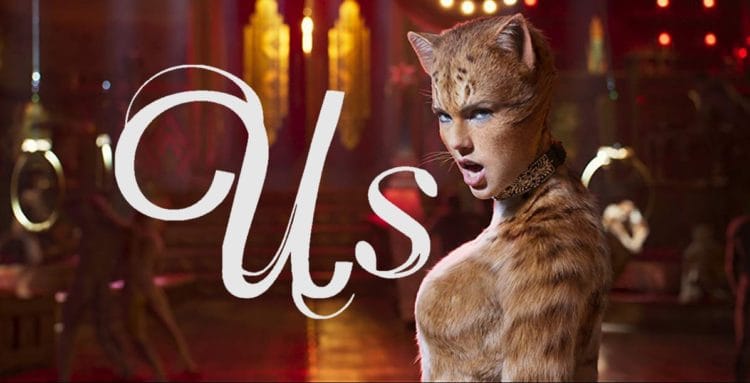 This definitely seems like a lot better effect than the original score for the trailer, since as David Griner of Ad Week would agree, this new version of Cats seems downright terrifying. For such a classic play the people in charge of this movie really didn't give much thought to how this was going to turn out. Tom Hooper had a vision it would seem, but it's hard to see just how that vision could be construed as anything but a nightmare. As you can see, Ian Abramson had the right idea of putting the song from Us into the mix, and it fits a whole lot better. Something about this upcoming movie just doesn't feel right, and while it would seem that it's supposed to be something uplifting and possibly amusing, it's also likely that some folks are going to be freaked out by it on a very big scale.
From the use of shadows and glaring lights to the cat suits that each actor is going to have to wear this thing looks like a hot mess and the internet is calling it out in a big way right now. One can't help but think that by some miracle this movie will be accepted by a lot of people once it's released, but until then it's likely going to be ragged on until there's nothing left to say and only the big reveal to withstand. It could be that a lot of us just aren't seeing what's really there and are taking it at face value, something that a lot of those criticizing would gladly admit to since the movie is quit obviously throwing its face value right in our faces. But with that being said there might be something beneath the layers there that could be worth checking out, if only because morbid curiosity is enough make people do just about anything once.
I put the song from Us onto the Cats trailer and I think it fits better. pic.twitter.com/VMBlbeDQs5

— "Ian" Abramson (@ianabramson) July 18, 2019
It does make one wonder why some of the actors in this movie agreed to come aboard, though when you really think about it they might like the movie or figure that it's a paycheck and they'd be foolish to say no. Seriously, this movie has a lot of great stars in it and to some people it seems like a shame that they're taking their reputation in their hands, er, paws, and making a go at this. From Taylor Swift to Jennifer Hudson to Dame Judi Dench and even Idris Elba it would seem that Hooper managed to secure a cast that would be absolutely epic anywhere else, though in the early goings it would seem that no one has much faith in the movie to start with. Come on, if someone could put the theme song from Jordan Peele's movie Us into a video and make it fit so perfectly there's something a little more sinister about the movie than we're seeing. True, the story of Cats isn't anything like Us, but at the same time the lighting and the disturbing look of the actors in their suits seems to be what's really driving the critics to roll their eyes and wonder what's going to happen when the next shoe drops.
In a way this is almost like something that could be imagined as a version of The Island of Dr. Moreau if he'd only experimented with felines and then left them to their own devices later on. That's how disturbing the movie seems at the moment, no matter the similarity is kind of a stretch. We've still got until fall to wait for this movie and already the jokes are flying and the mockery is running thicker than molasses in the winter, ready to take on every part of the trailer that's been seen and revamp it into something that might be more suitable for a blooper reel by the time all is said and done. It's not the greatest reception in the world, but again I am starting to wonder what's going to happen when the movie is finally released, since writers like Ryan McFee of Playbill and many others have already noted that it does seem to have promise. It's also important to note that too many movies have been derided and driven into the ground only to rise up and smash all expectations when they finally came out in their entirety, making a lot of critics eat crow in a big way since no matter what they said after that point they would only be damaging their own reputation.
So it's obvious that Cats has a long way to go in order to really get our attention in more than a mocking and comical way, but at this point I'm at least willing to say that it will be a surprise and possibly a pleasant one for some people, but also just as possibly a moment in which some of us might need to roll our eyes and admit we were wrong. We'll just have to wait and see, since right now it would seem that we're justified in our head shaking.