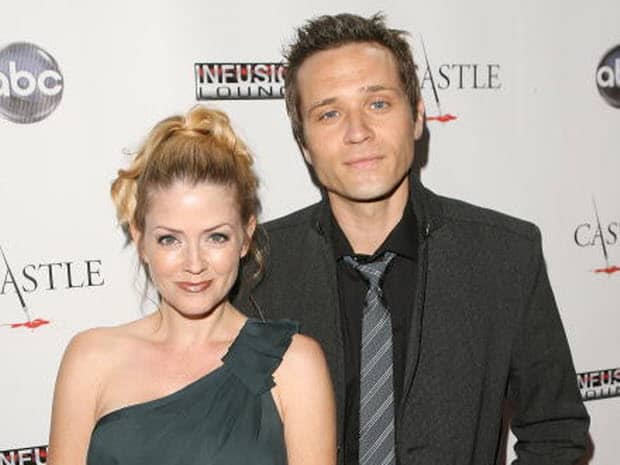 A serial arsonist may ruin Det. Ryan's plans to meet his bundle of joy in Monday's all new Castle. In "Under Fire," Castle and Beckett investigate an arsonist turned murderer, leading to Ryan and Esposito getting trapped in a burning building, just as Jenny goes into labor! Check out a clip from the episode:
TV Overmind got to speak briefly with Seamus and Juliana Dever, who play Detective Kevin Ryan and his wife Jenny, about the upcoming episode.
When asked what their favorite part of working on this episode together, Seamus and Juliana say that, in contrast to their prior Jenny episodes, they actually don't get to work together much in this episode. "I did get to work with Tamala a lot," says Juliana excitedly. There is a pivotal scene between Kevin and Jenny that Seamus would like to see put together on screen. "I get to say goodbye over the phone. It should be an interesting scene." Written by executive producers Andrew W. Marlowe & David Amann, it's sure to be a tearjerker.
Assuming Ryan survives this episode, the Devers think going forward, the Ryans would definitely like to have more kids. "Each come from bigger families," said Seamus, "so they wouldn't stop at one." Juliana would love for them to get a dog; the Devers in real life have several.
Despite the arrival of the newest member of the 12th Precinct, this episode won't feature another Caskett conversation about babies. The last episode before the hiatus dealt with the idea and there's not much room in this episode for another discussion. Seamus says, "much of the episode they are there for Jenny, showing compassion while Ryan is trapped in a burning building. It's a different dynamic than other episodes. Usually it's Ryan waiting for Castle and Beckett to come out of the episode alive."
Finally, I asked Seamus and Juliana to find three words to describe the episode. I allowed three words each, but being the awesome, unified couple they are, they came up with three compound words that have my heart racing for this episode.
"Nailbiting. Gutwrenching. Heartbreaking."
Looks like we'll need a box of tissues for this episode.
[Photo via Jesse Grant/Getty]
Tell us what's wrong with this post? How could we improve it? :)
Let us improve this post!