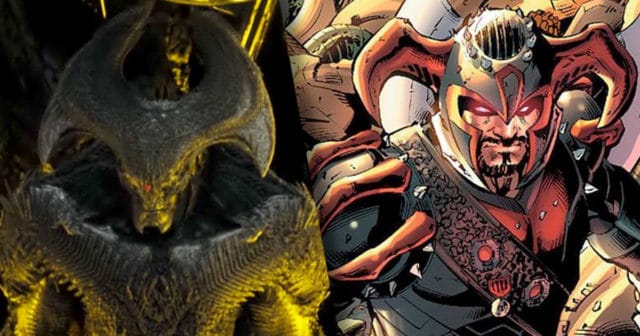 Steppenwolf is a supervillain in the DC Comics setting. He is not one of the most famous supervillains in mainstream comics, but he is connected to Darkseid, who can be said to be thus. To be exact, Steppenwolf serves as something of a sub-commander to the more famous supervillain, who has been foreshadowed in the DC Cinematic Universe.
In brief, Steppenwolf is a New God, which is an entire species of superhumans who possess powers befitting their name. Said species is separated into two populations, with the first living under the rule of Highfather on the planet called New Genesis and the second living under the rule of Darkseid on the planet called Apokolips. Unsurprisingly, the two populations reflect their respective homes to a significant extent, though it is important not to assume too much about them based on their environments. Regardless, seeing as how Steppenwolf is showing up in the Justice League movie, it seems probable that he will be serving as the spearhead for his master, which is more than enough to warrant the team-up.
Is There Potential in a Solo Steppenwolf Movie?
The concept of a solo Steppenwolf movie can seem a bit strange, but there is some merit to it. After all, the New Gods are just as dramatic as their counterparts from human mythology, meaning that there is plenty of potential in a movie focused on what happened prior to the character's debut in the DC Cinematic Universe.
For example, it would not be too much of a stretch for Steppenwolf to have been involved in Darkseid's rise to power on the planet Apokolips, which saw Darkseid killing his brother to usurp his place in the succession and then his mother in retaliation for the murder of his spouse. Moreover, it would not be a stretch to have Steppenwolf support either Darkseid or the rest of his family in the usurpation because of his status as Darkseid's uncle, thus providing a wide range of ways that the movie could go.
Furthermore, if the DC Cinematic Universe is planning to include more of the New Gods, a movie centered around Steppenwolf could flesh out the setting by focusing on the struggles between Darkseid and his New Genesis counterpart Highfather, which ended with an exchange of one child from each side to serve as hostages of sorts. Suffice to say that since Steppenwolf was one of Darkseid's sub-commanders, he would have been deeply involved in said struggles.
Who Should Play Who In a Steppenwolf Movie?
The choice for Steppenwolf has already been decided. After all, Ciarán Hinds will be appearing as the character in the upcoming Justice League movie, which is a solid choice because the Irish actor has plenty of presence as well as more than enough experience to provide the necessary performance. Instead, the more interesting casting choice would be that of Darkseid, who is so inhuman in appearance that there are more possibilities for the actor than otherwise possible.
Some people have suggested Liam Cunningham for a Darkseid who is more convincing when it comes to his belief that he understands the ultimate truths of the universe. In contrast, other people have suggested Ray Stevenson, who would bring previous experience playing ruthless conquerors. However, an even better choice might be Idris Elba, who can exhibit the charisma, the personal force of will, and the seething rage beneath the surface needed to play the part to perfection.