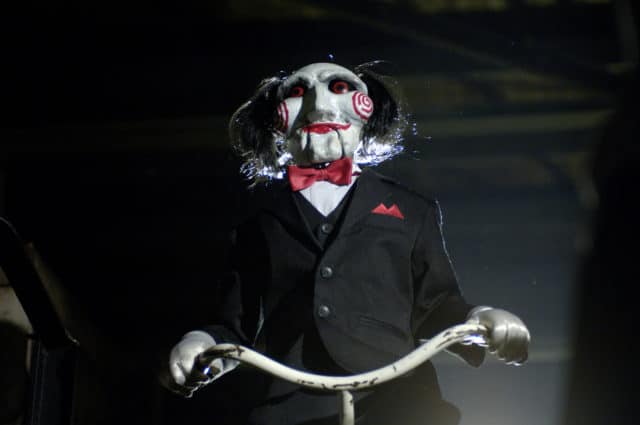 Horror and comedy exist on opposite ends of the movie genre, but occasionally, there are funny moments interjected into scary movies and frightening scenes in comedies. As a general rule, these occurrences are limited. We found some of the funnies horror movie trailers, believe it or not. Dyed in the wool fans of horror films will see the brighter side of their favorite chill flick in our compilation of five hilarious horror movie trailers which have been recut as comedies.
1. Halloween (1978) – Recut Trailer – Romantic Comedy
With a few minor adjustments, Jamie Curtis appears in this recut version of clips from the original horror movie Halloween as a girl in love with her favorite monster. The added texts in between add to the hilarity of this new spin on the frightening film that left us all feeling more than a little unsettled in the 70s.
2. Alien recut as a comedy
There wasn't much that was funny in this epic horror flick about space monsters out to get us all. The dreaded space alien that is wreaking havoc aboard Nostromo makes its shocking appearance. The hilarious perpetrator that made them all scream and run is nothing more than the cutest kitten that could be found.
3. The Exorcist comedy recut
Who would have thought that The Exorcist would reappear later as a spinoff series with an 80s sitcom twist? Careful management of the scenes, some lighthearted background music and canned laughter turns this horror trailer into a comedic take on the movie that scared us all out of a few nights' sleep.
4. Stephen King's IT Trailer recut as a family film
We don't think that this is quite what Stephen King had in mind for this trailer, but it works. The clown becomes the hero. It's amazing how a few carefully placed scenes, taken out of context of course, can change the entire personality of a film. See how stark terror can be turned into a warm and fuzzy invitation to join others in watching a heartwarming film for the entire family…NOT!
5. SAW II recut as a family film
This recut takes the cake in hilarity. You may wonder what's funny about a family film trailer? The juxtaposition of horror scenes with a few minor edits to make them seem like a heartwarming story about how people connect on a deep level is a screamer. Of course you have to have seen the original SAW II to get the full impact of the humor, but this recut is one of the best that we've seen so far. The humor just keeps coming and a horror turned family trailer leaves you rolling in the aisles.
Final thoughts
These are five of the most hilarious horror film recuts on the net today. They show the brilliance of a good idea and a few editing skills in creating a masterpiece that turns an old movie trailer into a clip that inspires rounds of laughter.
Save