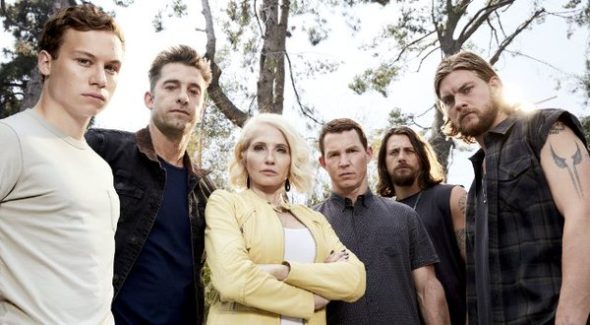 Since 2016, the television show Animal Kingdom has been mesmerizing audiences, both for its level of violence and manipulation and for the ability of its main cast members to practically hold the audience captive. This has led to a strong desire by most viewers to learn more about the people that most frequently appear in this unique show.
Below are five individuals that have been in all or almost all of the episodes to date. They all play members of the Cody family and they have all made their mark from a personal standpoint, both in this show and with other projects that they've been involved with.
1. Ellen Barkin – Janine Cody
She plays Janine Cody, the matriarch of the family and the one who is clearly in charge of everything that happens there. In fact, no one in the family does anything without her approval. She is the near-perfect actress to play this part, coming from the Bronx and cutting her teeth on projects like 1989's Sea of Love and the project Drop Dead Gorgeous, which was released a decade later. She definitely knows how to portray someone who has enough grit to handle virtually anything that gets thrown her way.
2. Shawn Hatosy – Andrew Cody
Hatosy plays Andrew Cody in the series, and is an experienced actor and director. He's been involved in a number of notable projects over the years, with Animal Kingdom being the latest one. Before that, he was involved with Alpha Dog in 2006 and went on to star in Southland in 2009. He brings his own special charisma to the show, something that he brings with him to every project that he works on.
3. Ben Robson – Craig Cody
Robson plays Craig Cody. He probably has one of the most unorthodox avenues to an acting career that you can imagine. He was born in England and went to college for a career in business. In fact, he did become a very successful businessman over there before he made the decision to move to Los Angeles in order to pursue an acting career. Not only did he completely change his career and the country in which he lived at a later age in life, but he made it all look easy. He starred in Hard to Lose in 2015 and the horror film The Boy in 2016.
4. Jake Weary – Deran Cody
Playing Deran Cody, this actor and composer seems to have so much at his fingertips right now. He's a young actor who is capable of portraying a wide variety of different roles, something that he is proving with his involvement in Animal Kingdom. In 2010 he was in the movie Altitude and four years later, he had a starring role in the psychological thriller It Follows. He's proven that there is virtually no type of role that he's not capable of playing with conviction, and he thoroughly enjoys all of the challenges that Animal Kingdom is able to bring his way.
5. Finn Cole- Joshua Cody
Cole plays Joshua Cody. Although he hasn't been in every single episode, he's only missed a couple and over time, he's developed his character into one of the most necessary roles in the series. The show simply wouldn't be the same without his character and he does an excellent job portraying it. He probably has the least amount of significant acting experience of the entire group, but it doesn't show. He started in 2015 in An Inspector Calls, but for the most part, he hasn't been involved in as many large-scale projects as the other individuals on this list. Despite that fact, he has a wealth of talent and he's not afraid to mix it up with people that have twice as much experience as he does.
If you haven't already seen Animal Kingdom, you're missing out on something that has the capability to completely take you away from whatever reality you have to deal with on a day-to-day basis. This show is action packed, extremely gritty, and at times, it's downright harsh. That's one of the things that makes it such a popular show and in large part, that's exactly why you won't want to miss a single episode once you really get into it. Without a doubt, the actors that are involved make the show what it is. While it has great storylines, it simply wouldn't be the same if it didn't have this particular cast. They make the stories come to life in a way that only they can do.