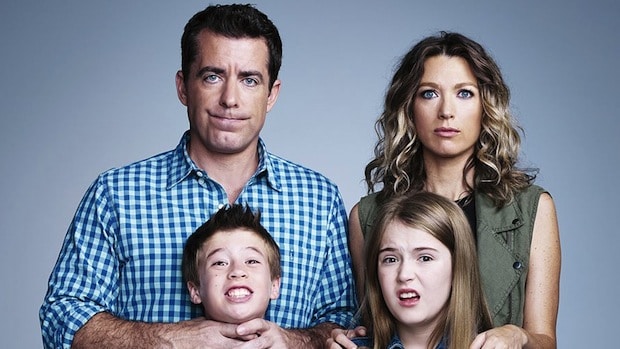 The Detour, which premiered on TBS in 2016, began life as a show about a couple and their two children taking a road trip from New York (Syracuse, to be exact) to Florida in an RV. On the surface, it was supposed to be about a family vacation but there was a lot going on that didn't really come to light at first. The show has been renewed for a fourth season, with each of the previous three seasons dealing with a different underlying issue. The first year, it was because Nate, the husband, was in trouble with his job (not to mention legal trouble). He wanted to go on "vacation" so he wouldn't get caught, or so he thought. Season two revealed that his wife had some issues of her own, which caused the whole family to head to Alaska in the third season. Here are ten more things you don't know about the show.
1. It's actually based on reality
It's sort of disturbing when you think about it, but this show is based on the real-life experiences of the couple. Considering everything that happens to these people when they go on vacation, it makes you wonder how it could ever be based on real events. After all, between New York and Florida, these people have all sorts of car trouble, they get into run-ins with law enforcement, and they have to deal with some rather interesting locals who want to show them the finer points of their lifestyle. After a vacation like that, most people would probably not ever want to go on another one.
2. The show was renewed for a second season before the premiere even aired
The people in charge over at TBS must have been pretty sure they had a winner. They made the decision to renew the show for a second season before the original premier even hit the airwaves. That's a pretty bold move, to be sure. It's also one that has clearly paid off.
3. It's not just available in the United States
The show does run on TBS in the United States, but it's also available in other parts of the world, too. It's also on TBS Latin America as well as Comedy Central India and The Comedy Network in Canada. For those living in Australia, it's available through a streaming service.
4. It's all fun and games until somebody goes to jail
It's sort of surprising how many times the people in this show get into trouble with the law. It's also a little frightening that it's based on some real life experiences. Somehow, they make it look funny on here.
5. The show is an original hit for cable network TBS
In a decade where even cable channels are trying to make a unique name for themselves, TBS seems to have found a real gem.
6. You get a sneak peek of the previous show each week
Every week when the show comes on, you get to see snippets of the show from the week before. That way, if you managed to miss an episode, you at least have the highlights so you know what's going on.
7. This stuff is a lot funnier when you're watching it on television
The show is genuinely funny but that's because you're watching a TV show about stuff happening to someone else. If you actually found yourself in these types of situations, it wouldn't be nearly as funny, to say the least.
8. Much of the basis for the show was based on Jason Jones' experiences on The Daily Show
In case you're not already aware, he both writes and stars in this comedy. It's said that he is the record holder for the most lawsuits brought against a company he worked for (The Daily Show). Apparently, the show attributes three separate lawsuits to things he has said or done, more than any other single employee of the show. All of this was used as a part of the plot for the first season of The Detour.
9. Jones' real-life wife is also a writer for the show
Samantha Bee doesn't star in the show, but she does help write it, right along with her husband Jason Jones, who does star in the show.
10. They've worked together before
The two worked together on The Daily Show. Even before that, they were working with each other in children's theatre.