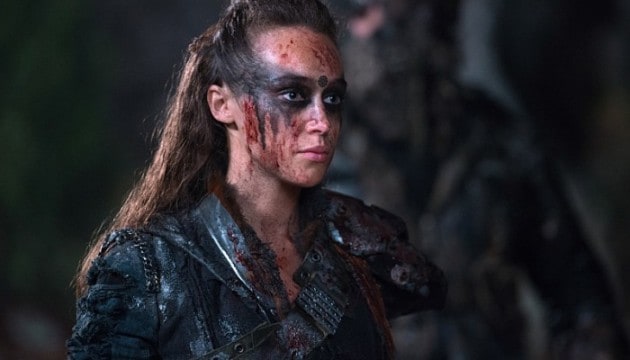 The 100 has been gripping, exciting, heart pounding, and all-around fantastic for pretty much the entirety of the show's run. Little has changed in the penultimate installment of Season 2, as the Grounders and Sky People raced to save their own from Mt. Weather's clutches.
This week on The 100: Bellamy, Jasper, and Maya continue their work on the inside. Raven and Wick set out to cut off power to Mt. Weather. Clarke, Lexa, Lincoln, and their armies approach the gate, and Octavia and Indra have a team go through the tunnels. In their desperation, Mt. Weather turns to their former leader for a solution that must work for them to survive.
First thing's first: there were lots of twists and turns in this episode. Lots of twists and turns that left Twitter in a tizzy and 'shippers screaming at their televisions. Generally, I try to refrain from "shipping," so that I don't get so invested that I miss the creative outcomes of a show. I'm sorry "Clexa" fans, but if I were Clarke, there would be zero room for me to trust anyone again, let ALONE Lexa. But hey, I'm a different kind of writer, and I could never rule anything out. Not with this show.
That being said, it helped me appreciate this plot twist so much more. I LOVE that they've taken Clarke on such a crazy journey. She killed the person she loved the most to get peace with the grounders. The grounders are with her until…they aren't. Then, Clarke's bi-sexuality is revealed just in time for her to be betrayed. Eliza Taylor is a brilliant actress (as is Alycia Debnam-Carey), and she's given brilliant performance after brilliant performance. I can't wait to see how her journey continues into the last episode. The writers and production staff have done a brilliant job, and they've chosen a brilliant lead character.
When Bellamy allowed Jasper to tag along on mission impossible, it was an affirmation of something that has long been assumed: Jasper is a warrior now. To a certain extent, I think that's what this show is about: how much does it take for someone to become a warrior? First Clarke, then Bellamy, Finn, Octavia, and now Jasper. I'm loving every single minute of this character's journey. Devon Bostick has done an incredible job this season, and I proved I'm serious by finally spelling his name correctly. Jasper has been arguably one of the most interesting characters to watch in Season 2.
One of the more fascinating elements of this show has always been Lincoln and Octavia's relationship. Every couple has their ups and downs, but BOY does this one have a lot of them. Regardless, one of my favorite moments of the episode was Lincoln and Octavia both taking the moral high ground. They both refused to give up, despite their "orders" and whether or not they are Grounders or Sky People. Both characters would rather do the right thing than be accepted into a group, and it's just a wonderful testament to the strongly written characters on the show.
Once again, I'm left with nothing bad to say. I'm very invested in this show, so every twist throws me for a loop. I always try to predict what's going to happen in a show. You'd be surprised how often I'm right, but with The 100, I'm always horribly off-target. I love that about this show. Not knowing what is going to happen makes me so excited to tune into each episode. Week in and week out, they produce a well-written episode of television that is gripping, epic, and explores some deeply human issues. I'm not sure what more you could ask for in a show…not that I think they need anything else. (Okay, if I was going to ask for one thing, it would be to make Wick a regular character. Steve Talley has been fantastic, and I'd love to see him every week. *steps off soapbox*) Each week, I am blown away. Well done.
I'm gripped, I'm invested, and I can barely sit in my chair long enough to contain my excitement for the season finale. Of course, that means that Season 2 is over, but hey, I've got Season 3 to look forward to, right?
What did you think of this week's episode of The 100? Were you as gripped, compelled, or surprised as I was? Let us know in the comments!
[Photo via The CW]
Tell us what's wrong with this post? How could we improve it? :)
Let us improve this post!