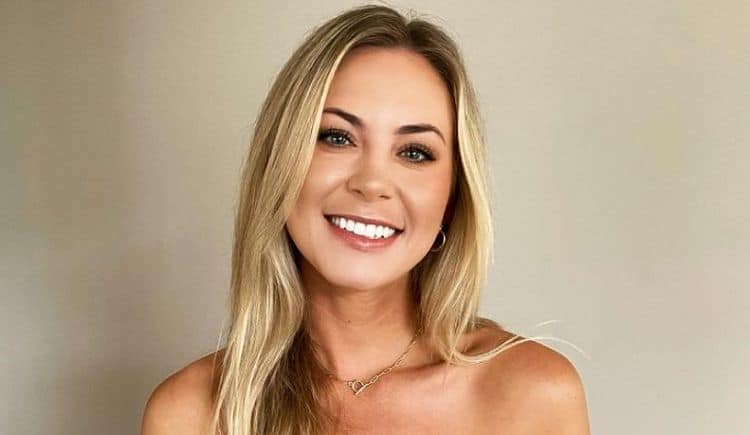 For the last 20 years, The Bachelor has been a staple in the world of reality TV. Each season, a group of women flocks to a beautiful mansion in hopes of being the lucky lady to capture the heart of the most eligible man on TV. Now, as we approach the show's 26th season, Cassidy Timbrooks is one of the latest women to head to the show in search of love. While there's no doubt that Cassidy will be up against some stiff competition, she is ready to do whatever it takes to win Clayton Echard's love. With her killer combination of good looks and a great personality, it looks like she might have a solid chance at the final rose. Keep reading to learn 10 things you didn't know about Cassidy Timbrooks.
1. She Is An Arizona Native
Unfortunately, we weren't able to find much information on Cassidy's upbringing, but what we do know is that she is originally from Arizona. She also lived in Boston for a while, but these days she is based in the Los Angeles area. If she does end up with Clayton, she will probably have to relocate as he lives in Missouri.
2. She Works As A Recruiter
Anyone who thought that Cassidy was nothing more than another pretty face might want to think again. She is also career-driven and she has been working as a regional recruiter for about two years. Prior to that, she spent several years working in the restaurant industry and she has quite a bit of bartending experience.
3. She Doesn't Have Any Previous TV Experience
There are some people who do shows like The Bachelor in hopes of furthering a career in the entertainment industry. However, that doesn't appear to be the case for Cassidy. As far as we know, Cassidy has never been on any other TV shows. Hopefully, we will eventually find out what inspired her to sign up for The Bachelor.
4. She Studied Business
Education is something that has played an important role in Cassidy's life. According to her LinkedIn profile, Cassidy has an associates degree in business administration and management from Arizona State University. It's unclear whether she plans to return to school to earn her bachelor's degree.
5. She Is A Plant Mom
Anyone who has ever struggled to keep a plant alive is probably going to be very jealous of what you're about to find out about Cassidy. She has a solid plant collection and it's clear that she has a very green thumb. Cassidy even has an entire highlight section on her Instagram profile dedicated to her plant babies.
6. She Likes To Read
People who like to read will agree that it's a great way to decompress after a long day. When Cassidy has free time, she likes to curl up with a good book and get lost in an interesting story. That said, she probably doesn't get as much time to read as she might like.
7. She Has A Great Sense Of Style
Cassidy isn't one of those people who just gets up and throws anything on. She loves sharing her personality through her clothes and she is a natural when it comes to putting together great outfits. Whether she's hanging out with friends or going to a more formal event, Cassidy always shows up with the perfect look.
8. She Is Passionate About Health And Wellness
Keeping herself in good shape (physically and mentally) is something that has always been important to Cassidy. She makes it a point to find time to exercise on a regular basis. She is also serious about other methods of self-care including journaling and therapy. By taking care of herself, Cassidy ensures that she can show up at her best for herself and the people around her.
9. Family Is Important To Her
At the moment, there are very few details about Cassidy's family, but it's already clear that her relationships with her loved ones are a major part of her life. Her bio for The Bachelor reveals that Cassidy and her mom have matching tattoos. During her time on the show, we will likely learn even more about Cassidy's family.
10. She Doesn't Like To Wait In Line
Waiting in line comes with the territory for many things in life, but it's something that Cassidy can't stand to do. As a result, she hates things like going to clubs because they tend to involve waiting in line. Hopefully, her disdain for lines doesn't cause any issues while she's on The Bachelor.
Tell us what's wrong with this post? How could we improve it? :)
Let us improve this post!