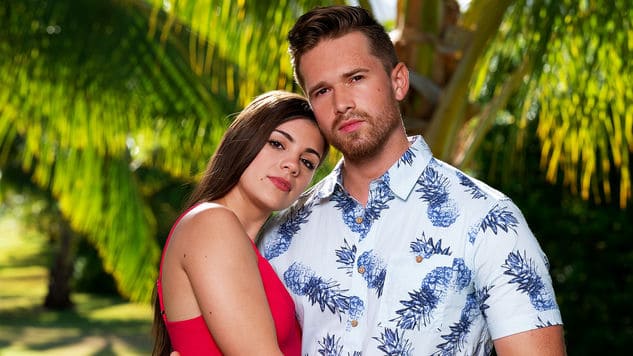 They say you never miss the water until the well runs dry and Casey Starchak can testify to this expression. He is a charming 25-year-old who knows he is good-looking so even when he dated Ashley, he still entertained his exes. He was so confident that he and Ashley would end up together but his pride got the better of him and cost him his relationship. Here are ten facts about the star, some of which reveal why Ashley left him for Ben Knobloch.
1. He is selfish
Love is about putting the needs of another person before your own, even if it makes you uncomfortable. When Casey found out about "Temptation Island," he told Ashley they should go. Ashley was however reluctant but Casey insisted reasoning that it would afford them a chance to improve their relationship. While that reason alone would suffice, he added that it would be a good move for him since he hopes to be an actor. So whether she wanted to go or not, his decision was final.
2. He hoped to have fun on the show
Casey and Ashley set the rules before going on the island; they agreed to not have any intimacy with any of the singles. Still, Casey wanted them to have fun and he was worried that Ashley would not. He felt she would not be invested in the experience yet he wanted them to have some fun without breaking the rules.
3. He uses CBD oil
With everyone trying to go the organic route, products such as CBD oil have gained popularity in the last few years. On his Instagram, Casey confessed he had begun using the oil and recommended Erba Essentials. CBD oil is a non-intoxicating chemical compound from the marijuana plant. The compound is diluted with oils such as coconut or hemp oil and used to relieve pain, fight addiction, and treat skin conditions among many other uses.
4. He loves showing off his masculine body
If you have it, flaunt it and Casey is not afraid to show off what he got. Most of the pictures he posts on his Instagram are of him in speedos or boxers to ensure fans get to see the biceps and six-pack. In some, he even poses teasing to take off the speedos while in another photo only his groin is covered by a sheet. Of course with such a high level of confidence it is no wonder he wants to pursue a career in acting. After all, even the muscular Dwayne Johnson and Steve Austin became movie stars after retiring from the ring.
5. He claimed he would be fine if Ashley left him
Casey has come off as a macho man who had the guts to say that even if his girlfriend left him, he would be okay. He added that it would give him an opportunity to go back to his party days. However all that awas lie since after watching Ashley kissing Ben, Casey broke into tears saying she had broken the rules. At least he has learned his lesson and next time he might want to keep his thoughts to himself lest he stays single for the rest of his life.
6. He accused Mark Wahlberg of only being interested in making money
Casey did not win any fans over with his behavior both on the show and in social media. He kept saying that Mark Wahlberg was after making money and only pretended to care for the cast. Casey expressed his anger on Twitter when he saw that Wahlberg was liking some tweets that were calling Casey a weak man who should leave Ashley to be happy. The reality star told Wahlberg to stop fighting battles that were not his. Wahlberg responded that he likes any show-related tweets without necessarily reading the content.
7. He was a party boy
If there is one thing that concerned Ashley about her boyfriend was his past as a party boy. She was so worried that if they went on the island, Casey would find someone whom he felt was better suited for him and leave her. Casey on the other hand felt that Ashley was focusing too much on his past and he was paying for the mistakes of her exes. Therefore in spite of his wild days, he believed it was time for Ashley to give him a break and start trusting him. This was because Casey was still in touch with his exes which made it hard for Ashley to trust him.
8. He met Ashley through a dating app
You do not have to spend nights in a club hoping to bump into the love of your life as you sip on a glass of wine. Dating apps have come to make things easier and Bumble has been ranked as the best in 2019. It is responsible for 750 million matches, and 5,000 engagements and weddings. Too bad that Ashley and Casey will not be in the statistics of successful marriages but at least the match led to them dating for a year and a half.
9. He can be heartless
You think you are head over heels in love with a person until they say something that paints you a picture of what you might have to deal with if you decide to marry him. Ashley may have felt that the only thing they needed to work on with Casey was her trust issues but he revealed another side of him she had never seen. While on the show, Casey compared their relationship to a sales pitch when asked what his strategy would be for the final bonfire. To make matters worse, he compared Ashley to a mouse in a box which pissed her off and she said he does not know how to properly use words.
10. He thought proposing to Ashley would win her back
Casey's plan to win Ashley's heart for good did not work since it was a little too late. When they went on the show, both were sure they would leave together as a much stronger couple. However a lot went down on the island that left Casey crying over Ashley. Still he is not one to give up easily so before the final bonfire, Casey went shopping for a ring according to Soap Dirt.His strategy unfortunately did not work because Ashley had already moved on with Ben.
Tell us what's wrong with this post? How could we improve it? :)
Let us improve this post!