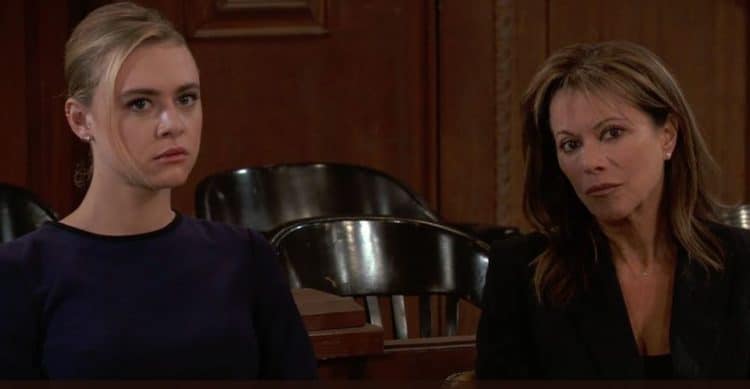 General Hospital fans aren't sure how this is going to go down, but it is. Griffin is not happy, and he is stunned about what is going on. The man has no reason to really feel this way given the way his life has gone over the course of the past few years, but he is still stunned, and there is nothing that anyone can do about that at the moment. There's a lot happening here, and we can't wait to see how it all goes down in the long run. But for now, we have to say that we are all a little curious about this. We saw it for ourselves, and we've also been watching as Alexis has tried to be as cautious as possible, but she can only do so much before she has to bring out the big guns and the news she is so heartbroken to have to share. However, it's happening.
Sonny got that visit we expected him to get, and we know that things are going to turn around. Watching his emotions as they are running rampant these days is difficult, but we also trust that he is the kind of man who can handle this situation the best way he knows how. We know that he is the kind of man who can get things done, who can make them happen, and who can come back from all of this. He's been through a lot worse in his life, and we fully expect him to bring his family and himself out of this mess in another light before it's all said and done. We trust him, and we trust that he can do this. We love it, and we are happy that things will eventually be better for him.
What's Happening on General Hospital
Come out and celebrate @MauriceBenard's 25th Anniversary with him!

Sacramento: https://t.co/naRwCcSiTw

Irvine: https://t.co/463DZ4cM9P pic.twitter.com/qh7IrDyGpj

— Melissa (@MBtvNews) August 15, 2018
If you love Sonny as much as everyone else — and we know you do — you know that he's coming to Sacramento to share his life with you by sharing his 25th anniversary as Sonny with fans. And that's a big deal. If you have not yet checked out the details, what he is up to, and how he is managing to make this possible, go see it now. You have every chance to see him and spend time with him, and that's kind of a cool situation to be in. Go do it, and be happy with what's being given to you. It's a big situation, and you should enjoy it if you can.
What's Next on General Hospital
"Kiki got justice… but it came at a price." #GH55 pic.twitter.com/gyDCToUffq

— General Hospital (@GeneralHospital) August 15, 2018
It's going to be a very big day as we see Josslyn finally apologize to Sonny. She might not like what is going on with him and her dad and what has happened between them in the past, but she gets that he is always there to protect her, her brother, and her mother. She will not find someone who is more willing to protect them than Sonny is, and she's realized that for the first time. She might not like that her mother isn't married to her father anymore, but she cannot deny the fact that her stepdad loves her and her family just as much as his own family, and he will do anything he can to protect them.
It' been his life, and it will remain his life. He will do anything to keep them safe, and her apology tells us that she finally gets that in her own life. And we will see that Michael's emotions are out of control. He's allowed them to get the best of him, which is not a big surprise. He lost a baby, he found out that nothing in his life is what it's meant to be, and things didn't work out for him the way he thought they might. It's been a very rough year for him, and that is not something we can figure out. But his emotions are going to get the best of him, and we can't help but wonder what that will cost him and to whom he will lose it. Will he break down, will he lose his mind, will he jeopardize something? It could go either way.
Stay tuned for more General Hospital and be sure to check out TVOvermind daily for the latest General Hospital spoilers, news, and updates.
Tell us what's wrong with this post? How could we improve it? :)
Let us improve this post!