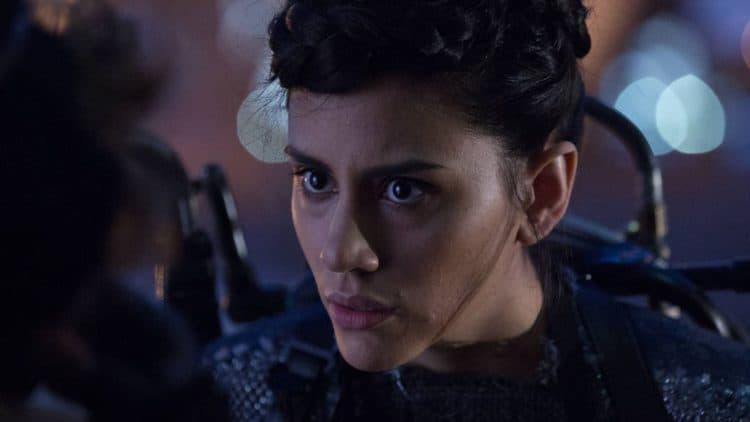 Camila Perez may not he a household name at this point in her career, but she's working on changing that. The talented actress has been working hard for the last several years and she's made a lot of progress. Just three years after making her TV debut, she was cast as Firefly in the series Gotham. Her most recent role, however, might turn out to be an even bigger break. She will have a starring role in the upcoming TV miniseries A Teacher which will tell the story of a teacher who is having an affair with one of her students. Camila's character will be the student's ex girlfriend. Continue reading for 10 things you didn't know about Camila Perez.
1. She Is Signed To A Management Agency
Building a successful acting career requires lots of work behind the scenes, and that work isn't always easy to do alone. For that reason, working with an agent can be a great way for actors to get access to bigger and better opportunities. Camila is currently signed to Talent Management Agency as well as Innovative Artists Talent And Literary Agency.
2. She Was Born In Colombia
Camila was born in Medellin, Colombia and she is very proud of her Latin roots. She has lived in the United States for most of her life and was raised in the Baltimore area. Camila is fluent in both English and Spanish and has had some Spanish language acting roles.
3. Her Faith Is Very Important To Her
Everyone needs someone or something to lean on when things get rough and to keep them inspired when things are looking up. God has always been one of those things for Camila. She is a very religious person and she likes to keep God and her faith at the center of everything she does.
4. She Is Been In Commercials
Doing commercials might not be the flashiest acting opportunity in the world, but it is a great way to get exposure and work with big brands. On top of that, many commercials pay well and don't require a large time commitment. Like many other actors, Camila got her start doing commercials. She appeared in ads for Zest and Crest.
5. She Likes To Dance
Camila loves what she does for work, but like everyone else, she loves when she gets the chance to take a break and just let loose. is a big music fan and she loves to dance for fun in her free time. Based on a video she shared on Instagram, I think it's safe to say she's a Whitney Houston fan.
6. She Loves To Spread Positivity
We've all been told countless times that having a positive mindset can help us have more positive experiences. In reality though, staying positive isn't always en easy thing to do. Camila works hard to keep a positive frame of mind and this is something she also hopes to spread to others.
7. She Is A Private Person
Despite the fact that her star is on the rise, Camila doesn't seem to be the kind of actress who likes to share her every move with the public. So far, she seems to enjoy her privacy and there isn't much information about her online. Even though she is active on social media, she likes to keep her posts focused on her professional life and not her personal side. There is a chance she may decide to open up more as her career continues to progress.
8. She Participated In Blackout Tuesday
In addition to spreading positivity, Camila has also used her social media presence to stand up the the things she believes in. On June 2, 2020, she participated in a virtual protest called Blackout Tuesday which was designed for people to show their solidarity with the right to end racism.
9. She Was In An Episode Of Power
During its six season run, the Starz series Power gained millions of viewers. Die hard fans of the show may recognize Camila's face from an episode she appeared in in 2020. During the episode, she portrayed the younger version of ASUA Angela Valdez who was primarily portrayed Lela Loren.
10. She Is An Advocate For The Importance Of Mental Health
Over the last few years, mental health awareness has become more and more mainstream, but many people still feel lots of stigma associated with discussing their mental health. Camila is a firm believer in the importance of mental health and ending the stigma attached to it. She encourages people to prioritize their mental health as much as possible.
Tell us what's wrong with this post? How could we improve it? :)
Let us improve this post!