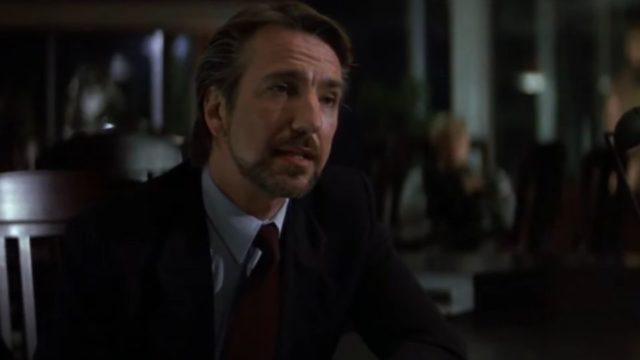 There are actors whose words are genuinely wise in many ways and should be remembered in quotes long after their passing. The late but great Alan Rickman is one such individual who brought such intensity to the screen and the stage that it's easy to say that his words carried a great deal of weight when he was alive and still do at this point. To some he was the stern, unforgiving Hogwarts teacher that absolutely loathed Harry Potter, while to others he was the slick and stylish German terrorist that couldn't seem to pin down a single cop stranded and all alone in a massive corporate skyscraper. But to everyone he was without a doubt a genius when it came to acting and was a person to listen to no matter what.
His words mean just as much now as when he was here.
10. Talent is an accident of genes-and a responsibility.
Almost every person is born with some talent, though some are born with a great deal more. It is a matter of how they use that talent that defines who they are and what their place in the world will be. It's a great responsibility to bestow on anyone.
9. I don't play villains. I play very interesting people.
This could be said of Severus Snape obviously but when attempting to apply it to Hans Gruber there might be some arguments there that can't just be swept under this statement.
8. It is an ancient need to be told stories. But the story needs a great storyteller.
Anyone can tell a story as people will always be willing to listen. But in order to do so with some veracity it is necessary to be able to tell a grand tale that can be delivered in a comforting way.
7. I take my work seriously and the way to do that is not to take yourself too seriously.
The moment you take yourself too seriously work becomes work and the daily grind is the one thing that manages to buckle everyone eventually.
6. I have never been able to plan my life. I just lurch from indecision to indecision.
Some people have their lives mapped out, others simply go where the wind takes them and plan at the spur of the moment when trying to make a simple decision.
5. It would be wonderful to think that the future is unknown and sort of surprising.
This is a big one since the future is always in motion apparently and should remain so just so there's some sort of surprise in life.
4. Acting touches nerves you have absolutely no control over.
There are many ways that creating something out of essentially nothing can control you in ways you didn't know were possible.
3. If people want to know who I am, it is all in the work.
Actors tend to put themselves into their work, so if you want to know anything about them then watch carefully.
2. If life could only be a little more tender and art a little more robust.
Life is what it is and we must learn to deal with and thus seek out the tenderness we desire while attempting to brave the artistic expressions that come.
1. There's a voice inside you that tells you what you should do.
Some people choose not to listen and others listen a little too much. There is a healthy balance to follow but it's hard to maintain.
To you Mr. Rickman, you were a wise man and you are missed.
Tell us what's wrong with this post? How could we improve it? :)
Let us improve this post!