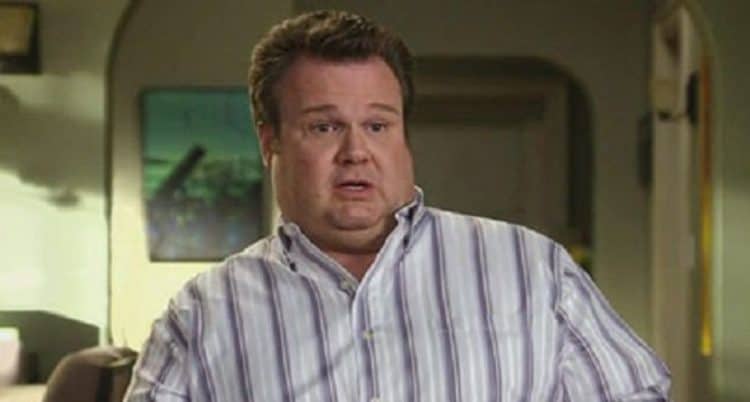 During its 11-season-run, Modern Family gave us one too many characters to binge on. If we weren't laughing hard at Phil's ( Ty Burrell) goofy self, we were making fun of Gloria's ( Sofia Vergara) accent just as much as her family was. When Lily was not being the meanest character ever, Alex was living every student's dream. None of the characters were ever as dramatic as Cameron Tucker ( Eric Stonestreet), who could go from being an emotional wreck to a diehard football fan in split second. There were too many 'Cam' moments, but these ones top them all:
1. The Time He Introduced Lily To The Family
The very first time we met Cam, he was not in his element. He and Mitchell had just adopted Lily and the trio was making their way back to the United States. He seemed to be the calm one since Mitchell was the one causing havoc. Later on, it was revealed that Cam was a little over-the-top, and this aspect of his personality came to play when he introduced Lily to the family. The entire family was gathered at Cam and Mitch's house. Mitchell revealed that he had big news to share, while Cam was suspiciously missing. Jay knew the dramatic side of Cam too well and threatened that he'd leave. " Oh, God! If Cam comes out here with boobs I'm leaving," he said. Lucky for Jay, Cam hadn't had any implants. When the subject of a baby came up, Jay thought it wasn't a good idea. " If you two guys are bored, get a dog," he suggested. Jay was a little late with that piece of advice. In the middle of Mitch trying to explain that Cam wasn't dramatic, Cam proceeded to make a grand entrance with Lily in his arms and The Lion King's 'Circle of Life' playing in the background. At that moment, he lifted her up, proudly announcing her arrival as the newest member of the Pritchett family.
2. The Time He And Gloria Were Searching For Stella
Cam was always one to put on a show, even when the occasion did not call for it. One of many times he unleashed his inner movie star persona was when Gloria lost Jay's ( Ed O'Neill) beloved dog, Stella. Gloria wasn't particularly a fan of Stella. If anything, she would have let the dog get away and never resurface again. But she knew how much Stella meant to Jay, and embarked on a search, tagging Cam along. As the pair walked down the block, Cam came to a realization. In that moment of unexpected serendipity, Cam was struck by his calling. "I see myself in the role I was born to play," He told Gloria. In dramatic fashion, Cam began calling Stella's name out loud, as if he were the lead star of a box office hit. He raised his fists and clenched both of them, all while exuding the mood of a distressed character. Gloria wasn't impressed by his act. Neither was Mitchell, who called him to complain about an uncleaned house. " I'm screaming 'Stella!' just like in Street Car," Cam told Mitchell.
3. The Time They Locked Lily In The Car
As far as parenting a young Lily was concerned, Cam was a superstar. Mitchell ( Jesse Tyler Ferguson) himself thought Cam was a natural. Every time he came around, Lily's ( Aubrey Anderson) face would light up. Cam and Mitch however got to experience every parent's worst nightmare; locking their baby in the car. In real life, when such a thing happens, there are things a parent is advised to do; call a locksmith, remain calm, or dial 911. Cam did neither of those things. As soon as both he and Mitchell had established that Lily was locked in, he went berserk. " Oh, Mitchell, I told you not to put the keys in the bag!" he yelled. Cam proceeded to nervously check all the doors, going as far as making an attempt to break the window. Mitch made an emergency call. Upon hearing the noises in the background, the attendant asked Mitch to tell his wife to calm down. " That's a man," Mitch revealed, much to the attendant's surprise.
4. The Time He Broke Up With Gloria
When he got together with Cam, Mitchell had received a warning from Cam's ex-boyfriend that was simple, clear, and to the point: " Cam's a great guy but I hope you never have to break up with him." Mitchell further inquired whether Cam got angry, weepy, or jealous. He was told there were all of those issues and some more. Unknown to Cam, all his traits were nothing compared to the genius of Gloria, who had a lot of experience breaking up with men. The two got into a sauce-making partnership that seemed to be headed nowhere, forcing Gloria to call it a day. " You're breaking up with me?" Cam asked. Soon enough, his angry, weepy, jealous side showed. " This business was my idea. I got you into the farmer's market. I got you into those baskets. You were nothing but a housewife when I found you…I didn't mean that. I've always admired you." Cam went on and on, asking Gloria whether there was someone else. In the end, he crumbled in the face of Gloria's break-up expertise and found himself bowing to her wishes.
5. The Time He Went Through The Stages Of A Juice Fast
There were a couple of times when Cam was a bit conscious about his physique. During those times, he'd take matters into his own hands, or leave it to the cute guys at the gym to remind him to honor his routine. One such time, Cameron went on a juice fast and Mitchell was on the receiving end of an agitated, starved Cam. " Let's face it. A well-fed Cam is hardly a model of emotional stability. Now, deprive him of food and stage by stage, it's a slow descent into madness." Mitchell lamented. A starved Cam's transcendental madness happened in stages. At first, Cam would rid the house of any 'poison', a term he had coined for unhealthy food. He would then proceed to attack Mitchell, and go into a fit like an actress in a soap opera. After living in a world of acting fantasy, Cam would suddenly be hit by a ton of epiphanies, some of them as wild as not needing food. That would be followed by despair, and finally crowned with intense rage.
Tell us what's wrong with this post? How could we improve it? :)
Let us improve this post!