"I'm a writer. I think, I type, I drink. Lather, rinse, repeat; not always in that order. As far as I'm concerned, art's just another guy from Brooklyn."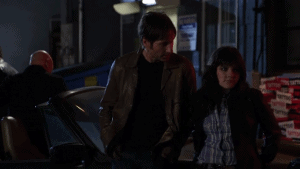 Lawyers. Guns. Money. Good times!
To succinctly describe the first half of season four of Californication, I'd call it recommended viewing, with five out of the six episodes being great television. It's funny, it's sexy, it's well-written, the pacing is very good and the casting is phenomenal. "Lawyers, Guns and Money" lives up to all of that. Let's take a look at it.
Abby, Hank's lawyer, tells him that things are looking up. A $1,000 fine, 18 months of probation and a yet-to-be-determined community service gig are all he's facing. However, the scandalous photo with him in a Mia/Sasha sandwich surfaces, and Abby walks away from Hank. Goodbye, lawyer. Hello, trouble.
"Instead of doing community service, can I do a PSA? Hi, I'm Hank Moody, don't !@#$ teenagers."
Sasha Bingham, actress-to-play-Mia, tells Hank she's dropping out of the film due to all the bad press. She tells him there's good news wrapped up in that bad news, that news being that she wants to continue sleeping with him. Before that can happen, Karen shows up but it's not to yell at Hank, she wants to have a warm talk with him. She tells him that Becca saw the photo online, and reminds him that through everything, he's always been a decent father, and he can't ever let that go. He let her down again, and that cannot keep happening.
"Put your shirt back on, that could be the law."
Stu wanted to see Marcy again, so he booked a waxing appointment with her. She was uneasy about the idea, and when he tells her he wants to hang out sans waxing, she says the wax has to happen or else she's turning around and heading out the door. Waxing takes place, and then he invites her into his private theatre and tries to put a move on her, telling her that he really likes her. I don't think this relationship is going anywhere, or at least I hope it isn't. I like Marcy and Charlie, and hope they end up back together, as I've said before. However, if this relationship isn't much of anything, what's the point of it? We'll have to see.
"That's right, I am kinda famous."
Eddie Nero returns, because "the script is keeping him up at night" and he wants to try the life of Hank (Life of Hank sounds like a great film title) on for a role. (Now I need to just take a moment and talk about how crazy-good Rob Lowe. He steals every scene he's in, and not just on Californication, but on Parks and Recreation as well. He's on two of my favorite shows, playing two characters that couldn't be more different, and he knocks every single line in every single scene out of the park. Kudos, Mr. Lowe.) He gets a chance to live Hank's life alongside him when Becca calls from a tattoo parlor. She's $100 short, and the artist called Hank instead of the police. He doesn't want to pay, and before any negotiations can take place, Nero pulls out a gun, and then nearly everyone in the parlor does the same. Gulp. Hank punches Nero and tells Charlie to pay up, diffusing the situation. I loved that Charlie asked the tattoo artist if he could do anything with his tramp stamp. Nice callback there to a funny drunken moment.
Karen's second heart-to-heart of the episode happens when she visits Abby, pleading for her to take Hank back as her client. Karen aptly describes Hank as a guy who the world views as a fabulous and frequent mistake maker, but who is another guy altogether in actuality; he listens, hears everything, sees into souls. She says she wants the best for him because she wants the best for their daughter. That's what it's all about, after all.
Later that evening, Abby is waiting for him at the hotel bar. She says she isn't his lawyer, she's just a woman at the bar – for the evening anyway. As I predicted, they get it on. In the morning, will she be just his lawyer, or more? We'll have to see.
After everyone is calm outside the tattoo parlor, Becca tells Hank he should be at home watching television with her mother, and she is the one who should be out doing crazy things. She adds that Hank is "prancing around like a poor man's Bukowski." That's an all-time great Californication line, especially coming from someone of her age. Nero tells Hank he's going to do the movie, and he's excited about it. It's "Cassavetes meets Judy Blume," he says."It's about a guy trying to keep it together while falling apart." That's what it's all about, after all. Grade: A