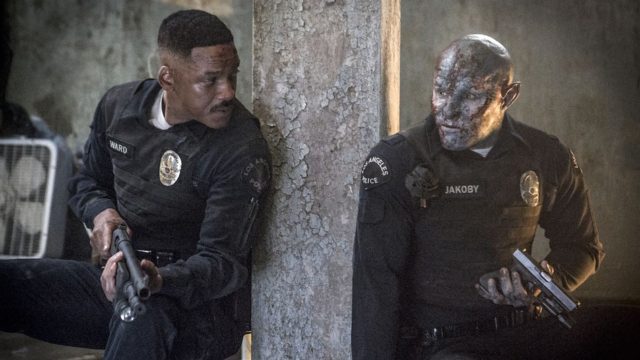 Bright is an upcoming movie that will be released through Netflix on December 22 of 2017. Some people might have heard of it because it is supposed to be an urban fantasy crime thriller, which is not a combination of words that sees much use in the context of movies. As a result, Bright might be worth watching for the sake of novelty, though it is important to note that it has other selling points as well.
What Does the Bright Trailer Tell Us?
Those who are interested in Bright can learn more by watching the Bright trailer, which reveals a fair amount of information. For example, it makes it clear that the setting is not our Earth but rather an alternate Earth on which humans existed besides a number of fantasy species such as orcs and fairies since the beginning of civilization. As a result, while the world is recognizable to us as something that is similar to our own, it is nonetheless not the same, which explains why it is called an urban fantasy movie.
Meanwhile, Bright is centered around a pair of cops, which explains why it is called an action-oriented crime thriller as well. First, there is Daryl Ward, a human cop who is being played by Will Smith. Second, there is Nick Jakoby, a character played by Joel Edgerton who has the distinction of being the first Orc to have become a cop. Under the circumstances, it seems probable that Bright will address the issue of prejudice at some point by making use of its setup, but it remains to be seen whether it will be capable of addressing it in a smart and sensitive manner or not.
Regardless, the plot that ties these element together comes from the movie's fantasy roots as much as its crime thriller roots. What happens is that Ward and Jakoby are out on a routine patrol when they encounter an elf named Tikka, who is played by Lucy Fry. Unfortunately, Tikka is carrying a magical wand of incredible power that should have been destroyed, which promises to have world-changing consequences if it falls into the hands of those who seek it.
What Else Can People Expect from Bright?
Summed up, the Bright trailer makes it clear that the movie will be both familiar and unfamiliar at the same time, meaning that it could provide its viewers with something new wrapped up in something beloved. Fortunately, the movie will be released within a short time, with there being little chance of a sudden change to its release date. After all, the filming for Bright finished up in February of 2017, meaning that it has had more than enough time for the post-production process.
Besides the fact that Will Smith is involved with the movie, some people might be interested to know that Bright was directed by David Ayer, who was the one who wrote Training Day as well as the one who both wrote and directed Suicide Squad. Meanwhile, the person who actually wrote the script for Bright was Max Landis, who has worked on an eclectic collection of projects that span a wide range of mediums. As a result, people who liked the projects that these two have worked on in the past might be interested in Bright as well, seeing as how it should have some similarities to the various projects that have preceded it.