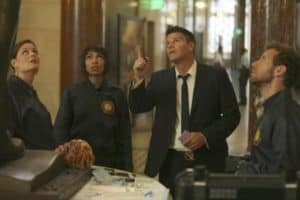 Bones channeled the movie Twister in the midseason finale this week. When a man was found in a camp, the team quickly realized that the victim may have been thrown around by a tornado. They quickly realized he was a storm chaser and dug into the tornado-chasing world to learn about his enemies.
Booth started getting very over-protective about Brennan, both at home and at work. When he lied to her and went out with Sweets and eventually the two got stuck in a tornado with some storm chasers. Brennan was upset that Booth didn't want her around the dangerous weather and headed out there anyway. Later, Booth promised to tone down his overprotective behavior, but said he would do everything he could to take care of Brennan and the baby.
Angela and Hodgins have been exhausted at work because their baby hasn't been sleeping very well. Angela's father, Billy Gibbons, came to town and wanted to spend time with his grandson, but the Hodgins' were hesitant to let him do that and throw Michael off his schedule. They soon realized that they were willing to try crazy ideas to get Michael to sleep instead of just letting him spend time with his grandfather. After leaving the two of them alone, they learned that Grandpa Gibbons was a genius in getting the baby to sleep.
A new episode of Bones was supposed to air next week, but the episode has been pushed back to act as a springboard for the Bones spin-off, The Finder. Bones is now on hiatus and the next new episode will air on January 12.
In the January 12 episode, human blood spells out a mysterious message on the side of a national monument. The Jeffersonian team races to figure out the clues and solve the case, but they learn that their suspect (guest star Andrew Leeds) is always one step ahead of them. Leeds' character will serve as a new multi-episode villain for the season.
Watch two trailers below for the next new episode of Bones. The trailers also include previews for The Finder.