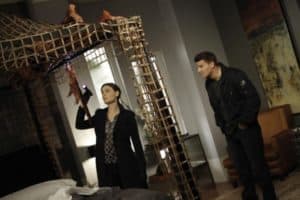 Pelant returned in this week's Bones in a tense episode that pitted Booth and the Jeffersonian team against the criminal mastermind.
A Bad Morning. Hodgins and Angela awoke to find a bloody – and skinless – body on the canopy of their bed, and flower petals sprinkled in their son's crib. Horrified and worried that Pelant had returned to take revenge on Hodgins for attempting to kill him the last time they met, the couple called Booth and Brennan for help. Originally Hodgins and Angela suggested that they contain this and simply track and kill Pelant, but Booth was determined to follow the letter of the law, since he was the only person with the skills to actually kill Pelant if needed.
The Victim. Cam, Angela and Brennan quickly ascertained from the bones that Pelant's victim was a special forces operative, more specifically a Navy SEAL. Originally Booth didn't want Agent Flynn anywhere near this case after what happened the last time Pelant surfaced, but Flynn provided Booth with classified documents that helped identify the victim (Freeman) and Booth invited him into the inner circle. A search of Freeman's apartment led Booth to believe that he worked for Serberus, a professional mercenary company with deep pockets and a lot of power. Flynn and Booth didn't get far with the company, which refused to turn over information about Freeman's ops and said it was determined to find Pelant on its own if he killed one of their men.
Hodgins' Obsession. Terrified that Pelant had threatened his wife and child, Hodgins became obsessed with finding the hacker/killer. He even went so far as to biopsy his own lung (and Angela's as well) in an attempt to identify the gas used to drug them. He did manage to identify the drug and lucked out in that the drugs' suppliers were both owned by his Cantilever company.
Infiltration. A clever suggestion from Flynn – and some computer magic by Angela – revealed that Pelant was working, and hiding, inside of Serberus. Booth and Flynn quickly assembled an FBI tactical team to storm Serberus' headquarters. Unfortunately, Pelant managed to escape the building and rigged one of the guns to fire at Flynn. Booth injured Pelant with an impressive shot, but still managed to evade the FBI. In the end, Pelant left a code that directed the team to a drone in Afghanistan that Pelant had rigged to bomb a school.
The Choice. Pelant had set up the drone to give Hodgins a choice. He had also set up a worm that was stealing all of the money in Hodgins' accounts so that he had to chose between shutting down the system (and, thus, saving his money but killing the girls) or losing the money and saving the kids. Hodgins chose to save the school, leaving him and Angela a bit broke (although, presumably, with high-paying jobs and some non-liquid assets that they can hock for cash).
Pelant's Fate. In the end, we see that Booth had shot Pelant in the face and he was forced to take shelter in a vet's office. In the final shot, we saw him sewing up his own cheek. Who wants to bet he's going to be extra pissed off now?
Next week's Bones brings Daisy back into the picture after her recent break-up with Sweets and has Booth and Brennan investigating a case about death that forces them to confront their own post-life wishes.
Watch a preview below for the January 28th episode of Bones on Fox.
http://youtu.be/sUDrb5wzBxQ