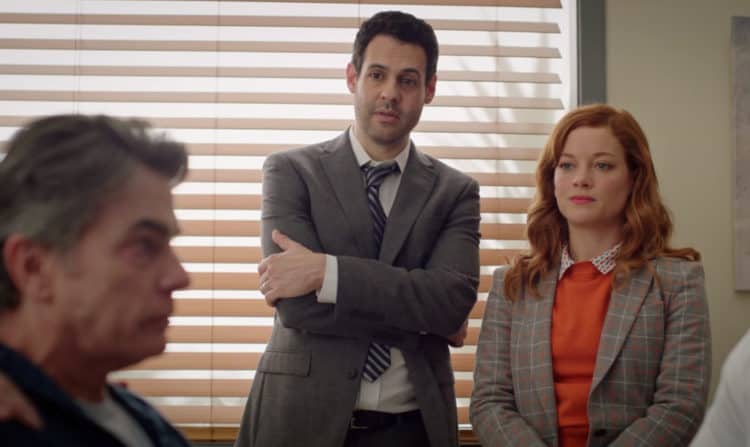 Although it may be hard to believe, Andrew Leeds has been hard at work in the entertainment industry for nearly 30 years. Even after all this time, he still approaches every project with excitement and that's one of the many things that makes him stand out. Over the course of his career, he has appeared in a variety of TV shows and movies, although most of his work has been on the small screen. He is most well-known for his role in shows like Bones and Get Shorty. Most recently, he was cast in Zoey's Extraordinary Playlist and fans are loving seeing him in the sitcom. Keep reading to learn 10 things you didn't know about Andrew Leeds.
1. He Is A Florida Native
Andrew Leeds was born and raised in the Clearwater, Florida area. Clearwater is well-known for its beautiful beaches, but it isn't necessarily the best place to start or maintain a career in the entertainment industry. These days, Andrew lives between New York City and Los Angeles.
2. He Is A Stanford Alum
Despite falling in love with performing at an early age, Andrew decided to study something else when he went to college. He earned a bachelor's degree in computer science from Stanford University. As far as we can tell though, he never ended up working in the computer science field.
3. He Got His First Taste Of Performing As A Singer
When Andrew was younger, he was a very shy child and his mother decided getting him involved in the arts would be a great way to help him break out of his shell. He told My Entertainment World that his mother "put me in a singing group at the local community center and I loved it. The people who ran the group were amazing and taught me so much. And I got really into theater."
4. He Is A Screenwriter
Most people are familiar with Andrew for the work he's done in front of the camera, but that isn't the only place where his talent comes to life. He is also a very talented screenwriter who has written several pilots and other projects. He also has some experience directing and producing.
5. He Was In Nip/Tuck
If you were around during the days when Nip/Tuck was on the air, you remember just how ground breaking the show was. Although it would probably be considered tame by today's standards, it was definitely a little racy back when it debuted in 2003. Andrew made his first big TV appearance in an episode of the show in 2003. He was in three episodes overall.
6. He Does Improv
The more you learn about Andrew the more it starts to seem like there isn't anything he can't do. He is truly the definition of what it means to be multitalented. Andrew is also involved in the improv/sketch comedy scene and he is part of the Main Company at The Groundlings Theater in Los Angeles.
7. He's Been On Broadway
It's no secret that TV roles are where the money and fame typically are, but there's something about acting on stage that many actors simply love. Andrew is one of those actors. He made his Broadway debut in a production of Teddy & Alice. He was the understudy before taking over the main role.
8. He Was Originally Only Supposed To Be In 1 or 2 Episodes Of Bones
Being on Bones was the first big break that Andrew got, but it wasn't supposed to be like that. During his interview with My Entertainment World he said, "Pelant was one of the great surprises of my life. When I auditioned it was only supposed to be one or two episodes. And then the character lasted for three seasons. People really seem to love the show so it's been a great privilege to get to be a part of it."
9. He Loves Dogs
Although it seems strange, you can usually tell a lot about someone based on whether they're a dog or a cat person. Andrew is a proud dog person. In 2019, he wrote a heartfelt post in honor of his sister's dog, Dussells D. Delaney AKA Humfree, who passed away.
10. Family Is Important To Him
Andrew has always been a relatively private person, but if there's one thing we do know about him it's that family is at the top of his priority list. He seems to have a great relationship with his loved ones and is particularly close to his sister. Having a strong support system is something he can definitely be thankful for.