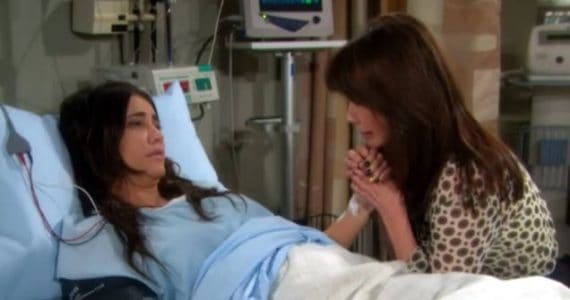 The Bold and the Beautiful fans are going to see things take a major turn this day. We already know that something awful is going to happen to Steffy. She's not happy now that she's found out what Bill did. Liam confronted his father and asked him to just be honest for once. We all know that's not an easy task for a man like him, however, and that things will take a very ugly turn. You see, there is nothing that will work for them. They will not find a solution to this matter. Bill will show up on Steffy's doorstep and try and lie his way out of his problems and she will slam the door right in his face. She wants nothing to do with him, nothing.
And that means that something awful is about to happen — and it will be Bill's fault, yet again. She will turn around to storm away from the door with her hurt, fury, and upset after he makes it his mission to show up and act like they have some sort of bond or relationship to work on, and she will trip and fall. The baby's life is now in danger. She's harmed her belly with her premature baby in it, and things will get much uglier before they get any better. She is now upset and very unhappy about the way things are going, and she has no real way of fixing any of this.
The baby is in dangerous danger right now. We hear that there is no reason she will not go into early labor. Her premature baby is not going to do well, and this might be one of those situations that changes everything for everyone. It's so ugly, and we wonder if Hope will take any of the responsibility for her own role in this at any point later.
Stay tuned for more The Bold and the Beautiful and be sure to check out TVOvermind daily for the latest The Bold and the Beautiful spoilers, news, and updates.