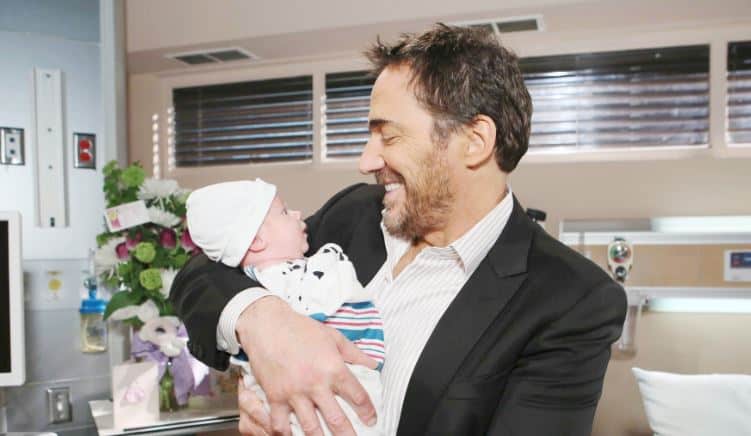 The Bold and the Beautiful fans have been entranced with the show this week. We've seen Steffy give birth to her premature daughter, and we've seen she and Liam bond over the birth of their baby girl. Their happiness might only be short-lived with the problems she might face as she was born so early, but they did get to meet their baby, and we do assume this small baby will be all right in the near future. She's going to be just fine, and we suspect that they know this, too.
We've also seen the wedding come to an abrupt halt, Hope wonder where she stands with her husband-to-be, she's planned a surprise for Steffy and the baby even though this is not the most opportune time to do something like that, and we've seen that Liam has learned his father is the reason his ex-wife fell down and went into premature labor with his daughter. All in all, it's been a very active, and a very exciting, week so far. A lot has happened, but these highlights basically sum up how everyone is feeling about the show and how they care about the outcome of things.
What's New on The Bold and the Beautiful?
Do you think Steffy and Bill belong together? #BoldandBeautiful pic.twitter.com/YXTfccgZVI

— Bold & The Beautiful (@BandB_CBS) May 30, 2018
There's a lot going on in the news regarding this show. Bill recently showed up on talk shows to promote his new book and to chat about being the better man. And, some additionally exciting things are coming up, including the fact that the infamous Sally Spectra will make her grand return this month. We think she's coming back without Thomas, and she might even be showing up without a man on her arm at all. She might not just be back with a long distance situation with Thomas. She might not be with him at all, and we always wonder if this means she might even have a chance with Liam. We liked them together in some strange and odd way, and we'd much rather see him choose her than choose Hope.
But in other news, we're also going to see a new cast member appear. We don't know much about her, but we know a British actress is going to show up and portray a character by the name of Clara. Whatever she has to do with this show is unknown to us, but we know that it's a short-term casting decision.
Additionally, we also know that there is going to be a guest star coming soon. America's Got Talent winner Keith Carlos is going to have a role with Wyatt and Sally in the near future, and we do wonder if that might be another match made in heaven. Maybe Wyatt and Sally could get together and have a romantic rendezvous.
What's Next on The Bold and the Beautiful?
https://twitter.com/BandB_CBS/status/1004060288780570624?ref_src=twsrc%5Etfw
The next episodes this week hint that there is a lot more going on that people ever imagine. For one, we might just see that Quinn is going to defend her son to Brooke. We all know that Brooke is not happy that her daughter didn't get married at her wedding after Wyatt interrupted the show and told his brother that there was a chance he was set up to make this decision. Brooke isn't happy, but her stepmother-in-law is not about to sit back and allow her to speak ill of her own son. He did the right thing, and Quinn will point that out to Brooke.
What might just make for the most awkward situation on television this week is the moment when Hope asks Liam what he plans on doing about marrying her. He's been given information that caused him to realize he chose Hope based off of lies about his ex that his father used to tell his brother to get to him. His wedding was interrupted, his baby was born prematurely, and he also learned his father caused that. And it's just not the right time to ask this question. Sure, we get that Hope wants to know what's going on with them, but it seems like poor timing to be thinking of herself at the moment. And we think that Liam might agree with that sentiment.
Stay tuned for more The Bold and the Beautiful and be sure to check out TVOvermind daily for the latest The Bold and the Beautiful spoilers, news, and updates.