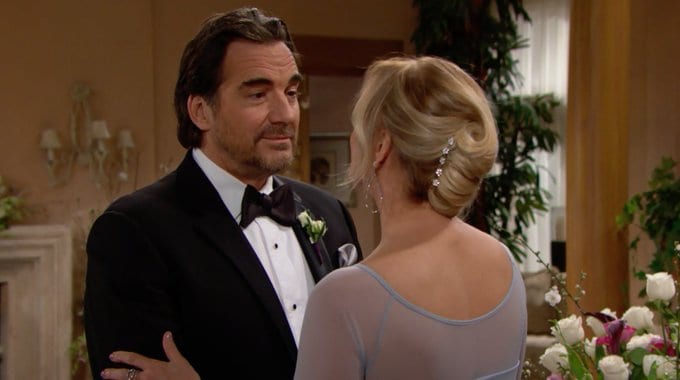 Bold and the Beautiful fans aren't sure how to stop things from getting worse, but at least people are trying to help with that. It's wedding day around here, and Brooke and Steffy are actually working together for a common cause. That never happens, but it's happening today and it's about Thomas. That's what makes it all the more exciting and all the more shocking to all of us. Neither of them wants to see Zoe throw her life away to be with this man who is not good for her. Neither of them wants to see her in a situation where she marries a man who does not love her, who does not care for her, and who does not care at all about her feelings. They are both trying to tell her the truth about Thomas before she says her vows, but she is not hearing it. She's convinced they are wrong.
Meanwhile, Hope and Liam decided to go to the wedding. We know that there is a part of Thomas who is waiting until Hope realizes that he is really getting married, that there is nothing she can do, and that she might be too late. He is ready for her to show up and try to put a stop to this, but that might be exactly what she does — just not in the way that he wants her to. He wants her to come there, to change this game, and to marry him herself, but she is showing up with Liam; and only because she is not willing to see his little boy hurt again because he is a selfish man who uses children to get what he wants and to be who he is. He's not happy with this, and there is nothing anyone can do.
What's Happening on Bold and the Beautiful
So….THIS happened 😱 Think Katie and Ridge will find out? #BoldandBeautiful pic.twitter.com/GUHoBySuF6

— Bold & The Beautiful (@BandB_CBS) March 10, 2020
They are awful.
What's Next on Bold and the Beautiful
Will Thomas and Zoe say I do? You won't want to miss what happens this week on #BoldandBeautiful! pic.twitter.com/dLlKIHHPZ4

— Bold & The Beautiful (@BandB_CBS) March 8, 2020
Bill is not a happy man, and he is about to go off on a tangent to one of his sons. He is going to tell Wyatt all about what a horrible person that he feels that Thomas is, how much he is ruining lives around here, and Wyatt is going to want to know why his father even cares this much. He's not part of any of this, and there is nothing about Thomas' life that has any effect on him whatsoever. But, it turns out that Wyatt is only going to hear this because his son walked in on him having a very fantastic daydream about Brooke and now he is mad and needs a reason to seem mad. So, he's mad about Thomas and how much pain he is causing everyone. He needs to get over this Brooke thing.
Then there is Zoe. Douglas has a total meltdown on the day of the wedding, and Thomas is not sure what to do. He's not sure he can go through with this now that his son is so clearly affected by this, but his almost-bride is really adamant that they need to have this wedding. They need to get married. They need to make this happen. They need to be there for one another to be good enough to get married and to make this marriage work, even after all that she learned today. It's a mess, and we just don't get why she wants to marry someone who is not in love with her.
Stay tuned for more The Bold and the Beautiful and be sure to check out TVOvermind daily for the latest The Bold and the Beautiful spoilers, news, and updates.