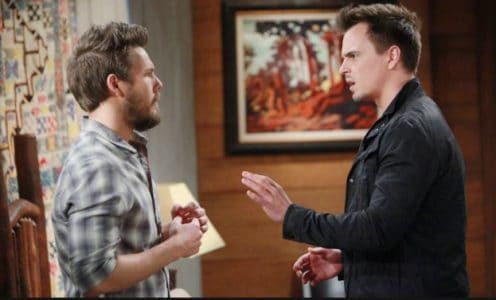 The Bold and the Beautiful fans will see that there is nothing short of a major struggle going on right now for Wyatt. He has to keep quiet about what he knows that Bill did to Liam and Steffy because he promised Katie he would make a deal with his father to further make their own plans more successful, but things aren't working out in their favor. They are not getting a very good deal on what is happening for them, and things just don't seem to want to work in their favor. At the moment, they are stuck in a place in which they are losing their minds and everything they've worked for. They want to keep this to themselves so they can improve their own lives, but Wyatt struggles.
We think that Katie knows this, too. She's not happy that she's agreed to do this and pressured him to take her side on things, and now she feels awful. She's been asking him to keep it to himself, but that doesn't mean she cannot see that it is affecting him in a way that will never change for him. She's going to feel worse as the time goes on, too, but they will keep it to themselves. On the other hand, Wyatt cannot stop this internal struggle.
He wants to tell his brother what Bill did, that all he told him was a lie, and that Bill used him to hurt his brother and get him to choose to be with Hope. And that's not fair. Wyatt feels so much guilt, but he will continue — at least for now — to keep this to himself so he can get something out of this for himself and Katie. Their own future is also on the line with Bill. He's forbade them from being together and asked them to suffer so that he can have his own way, and they aren't happy about that, either. Things just don't look good for anyone right now, and it's all because Bill cannot stay out of the lives of anyone but himself. It's not fair, it's not right.
Stay tuned for more The Bold and the Beautiful and be sure to check TVOvermind daily for the latest Bold and the Beautiful spoilers, news, and updates.