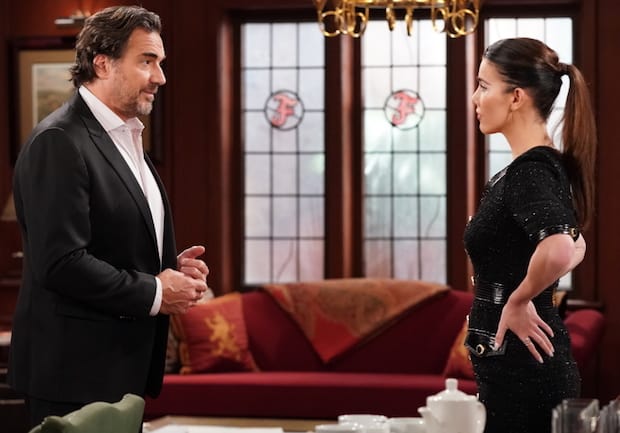 Bold and the Beautiful fans are excited to end the week going all the way back to 2007. This is going to be such a good one. This is a time when we get to see that Brooke is going to ask Nick for some help. She's going to turn to him for someone to talk to, someone to listen to her, someone who will hear her when she talks about what her problem is. She's opening up to him about how Ridge is going to marry Ashley Abbott and spend his life with her. She's not down with that. Nick is now married to Taylor, which is still a problem. Why is Brooke always looking to see things from the same point of view that Taylor sees them from? It's like she has taken a direct dislike to this woman and has made it her mission in life to make her entirely miserable. Nick wants Brooke to know that she needs to move on.
She's got a life to live that is just as good as it could be, but she has to let go and move on from what she's currently doing with this situation. On the other side of that is Rick. He has dated Ashley, and he needs to flirt with her and make sure she knows that she has to get her life in order if she's going to date Ridge and marry him. Brooke will always be a problem for them, and he needs her to know this. Ignoring all the people and all the things, Brooke decides that the best thing she can do is to call up this woman right now and tell her that Ridge might belong to her in the moment, but that he always returns to Brooke. It makes us want to delve a little deeper into Brooke's life and see what her issue might be.
She Doesn't Take Responsibility
Over the years, we've all taken note of this. Brooke cannot take responsibility for her own life. It is not who she is as a person. It is not what she's like as a person. It's not what she's looking to be. She's not that kind of gal, and she's not going to have anyone telling her otherwise. It's a situation that doesn't work out for her when she's wrong, and she will never take ownership over her mistakes.
She Feels All Things Should Be Hers
When Brooke wants something, she feels that means it must be hers and she should have it. The problem isn't that she sets her sights on things and makes sure she gets them. The problem is her mentality about it. Most of us see what we want, we work hard to obtain it, and we check it off our list. But, Brooke is not like that. She feels as if things should simply be handed to her because she wants them and they belong to her and they are hers to keep forever. She doesn't get that this is not how the world works and it's not what she needs to do. She's got a lot of issues about this. She's almost petulant, like a child who doesn't like it when she doesn't get her way.
She's Got Big Issues with Her Self-Esteem
She's clearly got some issues with her self-esteem, if we had to guess. A woman who is filled with confidence and with a great sense of self-worth is not going to allow herself to get into the kinds of situations she's in. She's not going to find herself in the middle of days when she is taking herself back to a man who mistreated her or didn't love her enough. She's not going to allow herself to fall for a man married to her own sister or to her own daughter. She's not going to sleep with a teenage boy and call it a mistake when her own teenage daughter finds out she slept with her boyfriend. A woman with good self-esteem is not living this ugly life. She's not doing it at all. It's not going to work out that way.
Tell us what's wrong with this post? How could we improve it? :)
Let us improve this post!