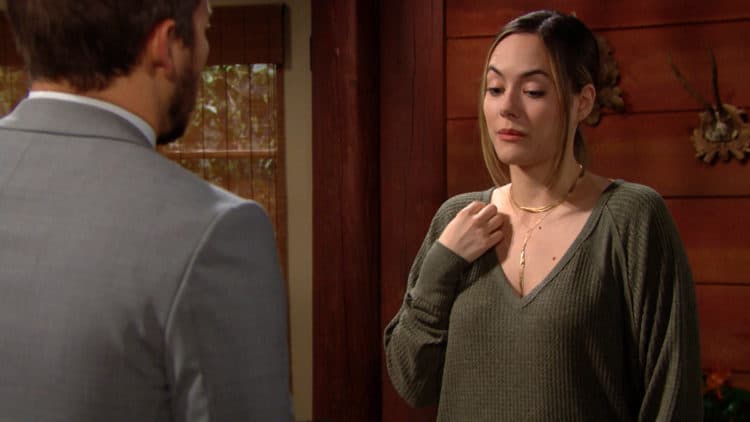 The Bold and the Beautiful fans know that it was a short week last week, so we all had to get our fill of things before we had four days to wonder just how it would go down this week. It wasn't much more exciting than we thought it would be, but a few things did happen. For one, Sally completely put her foot in her mouth at the dinner table, but not a person was paying any attention to that. Things were really exciting, however, when we all got to see things unfold for people like Ridge and Brooke as they finally — and we do mean finally — decided that their marriage was over, they were on different pages, and they would never see things the same way. We do hate to point out the obvious, like the fact that we have been telling them things like this for some time, but you know the drill.
On the flip side of things, we also know that there was a lot more going on with Liam and Steffy and Hope than met the eye. For one, we know that he is beside himself about the things she opened up to him about. He's glad that Thomas is okay and his lady love didn't kill a man, but he's not sure how he feels about the fact that she thought she did, and she chose to go along with her mother in the whole situation of covering it all up and making things worse than they were. She was not in the right regarding any of this, and we get that. We get that he is horrified, that he is upset, and that he is not sure how he thinks of her right now, and we also predict this is a pivotal turning point for them.
What's Happening on Bold and the Beautiful
Happy Thanksgiving from all of us at #BoldandBeautiful! What are you thankful for? pic.twitter.com/tJReRrfAMP

— Bold & The Beautiful (@BandB_CBS) November 28, 2019
This is the sweetest photo.
What's Next on Bold and the Beautiful
Brooke and Ridge are saying goodbye. 👋 See what happens when Shauna finds out this week on #BoldandBeautiful! pic.twitter.com/VhnA5OK1UV

— Bold & The Beautiful (@BandB_CBS) November 25, 2019
There's a lot happening this week, but we are going to start with Shauna. She is aware that Ridge needs some time in his life to get through the pain he is feeling with his wife and the end of their marriage. There is nothing good about the end of a marriage, even if you did see it coming for some time. There are few things more heartbreaking than this, and we do get it. We get that they have so much to live for, and that they have so much to mourn, and she is telling Ridge that she gets that. She understands his situation and his feelings. She feels that he needs time to get through this and to make things right, but we don't think she's being honest for one moment. We think she is playing him for what she feels he wants and is looking for.
We also think that her kiss is a very telling sign. She's got major feelings for him, and she has no intention of allowing him to move on in his life and around his life without making some big moves in his life. She's not idly sitting around waiting on him to make things right in the world. She's moving up, moving on, and moving around her life to make things seem more like what they are and less like what she wants them to be, and we get that and can see it. It's never going to end well for her, and that is what we feel is going on.
Stay tuned for more The Bold and the Beautiful and be sure to check out TVOvermind daily for the latest The Bold and the Beautiful spoilers, news, and updates.