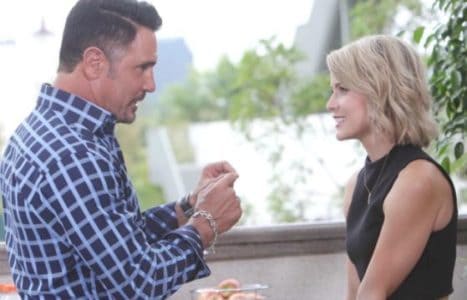 The Bold and the Beautiful spoilers tell us that Bill has made a big motion to lie for Caroline. He's seen that Thomas is in love with Sally. He needs this to end right now so her business fails and he can have the building her family owns. He needs this. It's not even an option at the moment. But we want to know more. We want to know what happens when Caroline finds out her uncle told her baby's father that she's dying.
She's not going to be happy. But she does want him back, so she might decide to work with it. If this is what it takes to end his current relationship and form a new one of her own with him, will she go along with it? Will she really base a relationship off a lie that she's dying? We think she might do just that.
There is a good chance she will absolutely lie about this and change her life for the better as a result. She won't see it as an issue, and she will continue to lie if we think we know what she's up to. She will make it her goal to tell him what's up with her, she will then go out of her way to lie about her illness, and we have a feeling she will plan a miraculous recovery. After all, how are you dying without ever actually dying? She's probably not thinking this through, but we definitely feel she will go with it.