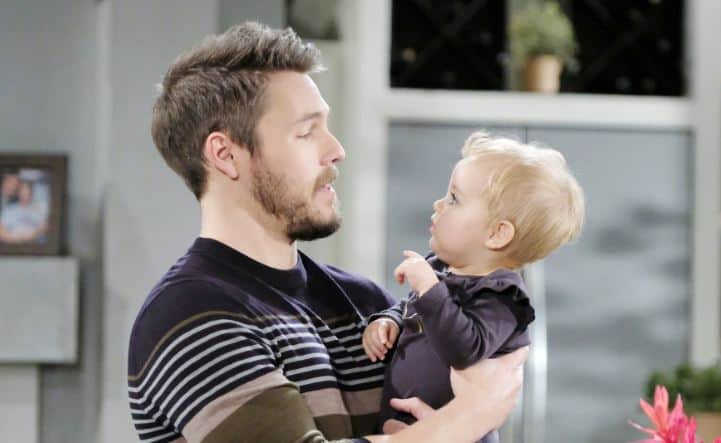 The Bold and the Beautiful fans were not all that amused when Hope asked her husband such a horrible question. She asked him if he would rather be with Steffy than with her considering he is on her side when it all comes down to Taylor. She is, in our opinion, being rather childish about the entire thing. For one, Hope is not the baby's mother, and this is not her decision. Taylor is not her mother, either, and this is not her decision. And she cannot force her husband to always take her side and leave out the woman who is the mother of her child. She will not like it if Steffy tries to make life decisions her Hope's daughter, yet Hope refuses to see this and make it a situation. She's being a pain, and we really find her being very immature and not very motherly in the moment. We love that she wants to protect the baby, but we also do not love that she is putting her situation out there for her husband to deal with. It's none of her business.
Furthermore, Brooke went to see Bill, and we all know how that went. He admitted to being a better man for the sole purpose of wanting her to want to be with him again. She's married to Ridge, but we all know that she's sporting some serious feelings for Bill once again. This is not a situation that will end well for any of them, and we cannot figure out how they will handle this and deal with it. But that's not all in the moment, either. There's a lot that might just happen for all of them — including the fact that someone is going to end up hurt in all of this. And someone will not like what they are seeing. This is a mess.
What's Happening on the Bold and the Beautiful
Just one more week until we celebrate the holidays at the Forrester house on #BoldandBeautiful! Will you be celebrating with us? pic.twitter.com/gIxNIPI3Td

— Bold & The Beautiful (@BandB_CBS) December 18, 2018
They might not know how to mind their own business or stay out of things that don't involve them, but they do make one lovely family, don't they? We certainly enjoy seeing them in all their glory.
What's Next on the Bold and the Beautiful
Feel ALL the feels of the season this week on #BoldandBeautiful! ✨ pic.twitter.com/zKIg88JYUD

— Bold & The Beautiful (@BandB_CBS) December 16, 2018
Liam is not happy with his life right now, and he's about to defending Taylor. Brooke is also not happy at the moment when Liam brings up the horrible things that Brooke has done in the past to her and Hope as a way of pointing out that they all make mistakes and have done horrible things to others yet they feel that they are perfectly fine to be with the baby by themselves. Hope and Brooke seem to forget that they are not the baby's mother, and they seem to think that they can do whatever they want and make decisions for these two and their baby. And we like to think that if Hope and Brooke spent half as much time minding their own business as they do minding everyone else's business, they might just be happy go lucky and in a good place with one another.
But that does not seem to be the case in this situation. They will forever ruin their own lives and the people in their lives by making it impossible for people to want to spend time with them. It's not easy for everyone to be good with them when they spend so much time making it difficult on everyone. They have to mind their own business, and they have to stop putting Liam in a spot where he feels pressured to choose sides. They need to respect this parenting thing he's doing with Steffy and let it all go. They have no business in this.
Stay tuned for more The Bold and the Beautiful and be sure to check out TVOvermind daily for the latest The Bold and the Beautiful spoilers, news, and updates.