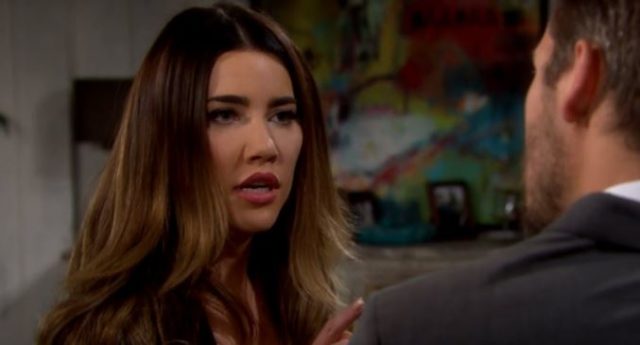 The Bold and the Beautiful spoilers tell us Steffy is very unhappy. To be fair, though, she's not someone who strikes us as overly happy in the first place. She's too serious, too dramatic, and too much of a drama-lover to be too happy in her own life, and she's always looking for people to take out her inside anger on. This week, it's her brother Thomas. She's furious with him, and so is Ridge. He's given Sally Spectra the money to keep her business going, and no one is happy to see that happen. They all hate her, and they're all worried she will do something horrible to their family once again. She won't, but she needs a second chance. Steffy is more than a little disappointed in her brother, and she's taking out all her upset on him right now.
She and Ridge will partner up to take out their anger on Thomas, and it might be a bit too much. They want to see Sally face some consequences for her actions and the pain she caused their family, and they are not happy she's not facing anything of her own. But what will they do to ensure she gets what they feel she should have coming to them? Well, for starters they are going to fire Thomas from the family business. He doesn't seem to care though. He will get his life back together on his own terms. And as for Sally, she's got Steffy on her tail now.
They want to see her pay for what she did, and Sally just wants a chance to build her business the correct and honorable way. But Steffy is going to declare war on her, and she's not going to stand for it. She's not going to allow this girl to come at her when she's trying to do the right thing, and we fear that Steffy might end up seeing the hard way how things work out when you mess with the wrong person. She's not going to like what happens to her, but she doesn't have much choice in the matter.