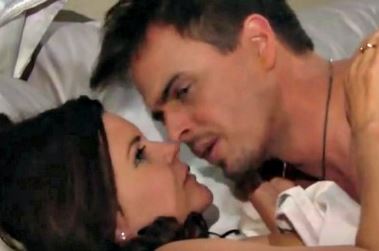 The Bold and the Beautiful fans are more than excited about what Katie and Wyatt are doing. They are looking to keep it a secret as long as they can, but we aren't sure that's even remotely possible for them with so many people already in the know. What we do know is that they both want to keep this from Bill as long as they can, and we suspect their days are numbered. They can't keep it from him forever, but they already know this. They know things aren't going to work for them like this, and that's just what makes it all the more fun.
Right now they're sneaking around, but they're not really. They're basically hiding things from one person, because the other parent already knows and she is not happy with it. Of course, she's got her own problems right now, and Wyatt should be very happy his mother's marriage is being attacked at this particular moment in time, because it saved him.
But now that Katie knows things are still secretive, how much longer will she be willing to stick around? She's not someone who is appreciative of this, and we suspect she's going to be more than a little upset when she realizes that she's unable to have a real future with this young man. Does she want one, though? Does she really want to be with someone who is so young, who might want his own kids one day, and who can't even talk to his parents about her?