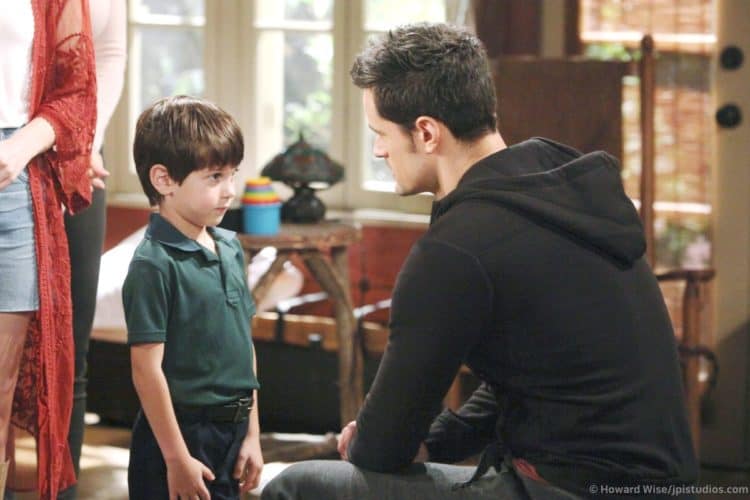 Bold and the Beautiful fans aren't surprised that Hope wants to continue to have everything go her way, and hearing her make the announcement that she's ready to make Douglas their own child — and not Thomas' — was not shocking to us. She and Liam only just got back the baby that they were told died at birth and they didn't know she was alive all this time, and she is ready to expand their family even more with another child that is not theirs. She's made the decisions, and he knows that there is nothing that he can do. She wants Liam to give him a home, be his father, and let her be his mother, and Liam will not take sides in this matter. He won't do it with all that is going on with Steffy and this other daughter he has, and the fact that everyone is a mess right now. He can't choose, and he won't.
Meanwhile, Brooke and Hope are doing all they can to make this happen no matter what anyone else thinks. Thomas has gotten wind of what they are doing to his family, and he's not happy. While he might be looking to revenge his family on his own, he is not about to sit here and allow them to do the same thing to him and his son. He will not allow her to raise his child, and he will do anything and everything he can do to make sure this does not happen to Douglas, even though we can see that he clearly doesn't care at all about this son of his, anyway. She's not sure what is going to happen when Thomas finds out, but Hope has no idea that he already knows, and he is not happy about any of it.
What's Happening on Bold and the Beautiful
Whose side are you on? Like for Hope, RT for Steffy! #BoldandBeautiful pic.twitter.com/ms2jAIrKph

— Bold & The Beautiful (@BandB_CBS) October 21, 2019
We don't even know.
What's Next on Bold and the Beautiful
https://twitter.com/BandB_CBS/status/1185918594514685952?ref_src=twsrc%5Etfw
Hope is taking the time to make it clear to Douglas that she is going to raise his son. She's not going to raise his son with him, but she will try to make him see that she is the best option for the child. She will try to make him see that she will raise his son, that he will get to see him on supervised visits, but that she will be his mother and that Liam will be his father, and that his little sister will be baby Beth. She's not asking him for permission to do this. She's simply letting him know that she has a plan, and she'd like for him to be all right with that, but that it's too bad for him if he is not. He's not, of course, but we don't know how he plans on playing this one to her face.
Ridge wants to get his daughter to forgive her brother. She wants her father to leave it be. She cannot forgive him for any of this, and she cannot believe her father is even asking her to do that. She's shocked that he is asking this of her, that he is making this a situation in her life, and that she is going through this at all. She's not sure how to focus on any of it, and it's not going to work for her. But, that's his problem.
Stay tuned for more The Bold and the Beautiful and be sure to check out TVOvermind daily for the latest The Bold and the Beautiful spoilers, news, and updates.