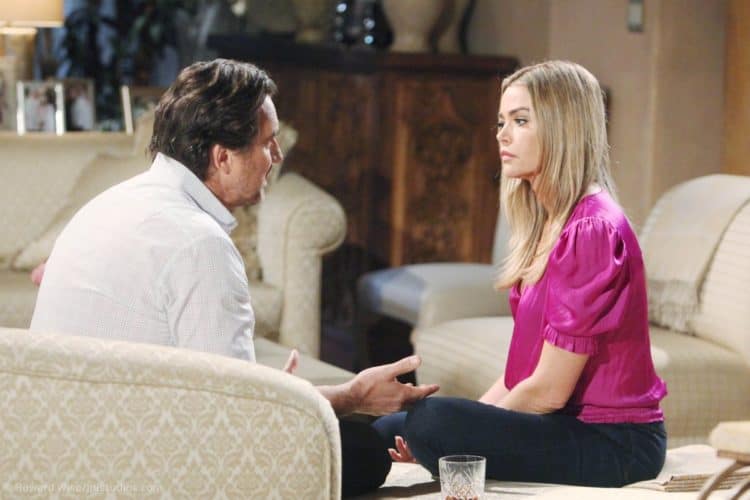 Bold and the Beautiful fans were all shocked to see Thomas after seeing him fall into a vat of acid and die. There is no way he got out of there when he fell, and we've all been watching as Hope dealt with his death by lying to everyone but her mother all week. It's been a rough week, but there he was all up in Hope's life showing her he is not dead and that things are not always what they seem. He's making a point to her. He's actually making many points to her in this moment, but the big one we see is that she knew that someone's child was dead and she chose to lie about it rather than to tell the truth because it suited her needs in life more than it did not. She did the same thing — almost — as he did to her when it came to the whole baby situation, and he is not wrong to point that out.
Meanwhile, Ridge might not know his son is here and not gone, as he suspects he has run off and left life behind now that his son is not his own to keep anymore, but he suspects that he might not be gone forever. Of course, he doesn't know that he is dead. But, that is not a problem since he is clearly not a dead man. But, we did have to watch as Ridge shared his happy information with none other than Shauna. Might we remind everyone that he is not married to her even though he has feelings for her and knows she has feelings for him? He's not doing himself or his marriage any favors, but he also doesn't seem to care all that much. This is a bigger problem than we thought.
What's Happening on Bold and the Beautiful
Things are getting complicated for #Bridge. If you're rooting for these two to stay together, show them some love. ❤️ #BoldandBeautiful pic.twitter.com/rfINPoXQp0

— Bold & The Beautiful (@BandB_CBS) November 19, 2019
We don't want them together.
What's Next on Bold and the Beautiful
Could this really be the end of #Bridge and the start of something new? 💔 Tune in to #BoldandBeautiful this week to find out! pic.twitter.com/ODK4SQdz8B

— Bold & The Beautiful (@BandB_CBS) November 17, 2019
Brooke is a woman who will always put her daughter before she puts anyone else, and today is going to be one of those days when that is going to backfire on her more than it usually does. It's a thing that will make things more complicated than it needs to be, but she's that kind of girl. She's going to do things that are going to make the world a more uncomfortable place where she lives. She's going to refuse to be there for her husband in the wake of this devastating news that his son is missing — remember, he might have shown up on Hope's doorstep very much not missing or dead — but he did not show up on his father's. Brooke will not be there for Ridge when it appears that his life is falling apart.
But, Shauna will be there for him. She will be there. She will be there to make him happy, to make him feel good. She will be there to get the world to work for her the way that it works for everyone else, and she will be there to make the best of the best. She's a woman who is trying hard to make this man her own, and Brooke is making it very easy on Shauna to be there for him in this moment. It's not good, but it is what it is. And we cannot help but notice things are taking an ugly turn for her — and it is entirely her own fault.
Stay tuned for more The Bold and the Beautiful and be sure to check out TVOvermind daily for the latest The Bold and the Beautiful spoilers, news, and updates.