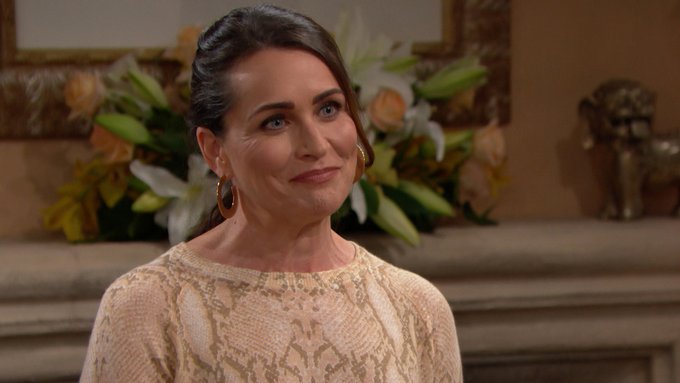 Bold and the Beautiful fans knew that things would blow up for Brooke and Bill. What they did was wrong. First and foremost, they are both with other people and they are both committed to making it work with them. She's no longer separated from Ridge. He lives with her and they are celebrating that with this party. It's not like when Ridge made out with Shauna in the midst of divorce papers and whatnot when he and Brooke were sure they were ending their marriage. Bill just committed himself to Katie and their son after she was sick and he said he would never be with anyone but her. He was bedside with her during her transplant. He was bedside with her when things were not going well for her. There were so many things, and now they did this. And Quinn knows it and has shared this with the family.
The entire family, we might add. She showed the video of Brooke and Bill kissing that she found. She showed it to Ridge and Katie and Donna and their kids and everyone in between. She is mortified, and she is horrified this came out, but no one is more so than the two people she and Bill hurt with this. And, added to all of this is the fact that Bridget is back in town. The good doctor is here to help her mom and her half-brother slash stepdad celebrate the recommitment they made to one another after thinking they'd end up divorced and unhappy with one another. It's been a huge thing, and we get that it is not going to get better. It's a problem, we know it, and we cannot help that in any capacity. For now, though, we just sit back and we watch as this all unfolds.
What's Happening on Bold and the Beautiful
https://twitter.com/BandB_CBS/status/1242884541393453062?ref_src=twsrc%5Etfw
We'd love to know what she thinks about her character's ways.
What's Next on Bold and the Beautiful
The secret is out, and Quinn's blackmail has just begun! You won't want to miss #BoldandBeautiful this week! pic.twitter.com/2fYcrZSFPi

— Bold & The Beautiful (@BandB_CBS) March 22, 2020
It seems that today is simply a bad day. It's a day that no one is happy about. It's a day that no one is going to leave from with any happy feelings. Unless, of course, we are talking about Quinn. She is the only person around here right now in a good mood, and she's feeling very good about the why behind her good mood. She might be sorry that she had to do things to hurt other people in the process, but she's mostly just happy about how much she was able to focus on doing things like destroy the life of Brooke in a moment — a very public moment. Unfortunately, Ridge and Katie and even Bill are just collateral damage in her mind. She knows this. She's okay with this. It's okay with her.
On the other side of things, though, is Katie and Ridge. They are shocked. They are crushed. Ridge has been with his wife only a few days and this is happening? Can they even come back from this? We don't think so. But, they've come back from all the other stuff we didn't think sounded at all possible, so what the heck do we know? And then there is the fact that so many people are going to feel horrible for Katie. Will she ever forgive her sister and Bill? We think she will, but she should not. They've done this to her more than once, and she's the only one to blame for allowing this to continue in her life anymore. She knows this.
Stay tuned for more The Bold and the Beautiful and be sure to check out TVOvermind daily for the latest The Bold and the Beautiful spoilers, news, and updates.