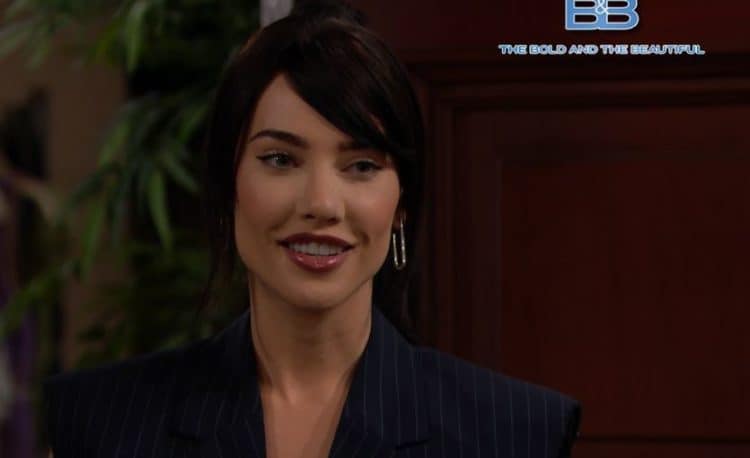 The Bold and the Beautiful fans have never loved Steffy more than they do right now. Seriously, she's made more amazing decisions in her life the last week or two that we can't even begin to understand how much she's been growing as a person. And she's someone who has been there through thick and thin for Liam, but she told him that she will no longer live her own life as the product of his own indecision. Hearing her tell him that she's spent her entire adult life being there and waiting around for him to make a decision about them and their life together has been too much for him, and he will not be that person to her anymore. She's finally realized her worth, she's added tax, and she's been able to get it together. She's not going to say more than that right now, but she's going to have a chance to be there for herself.
And now we sit back and we wait to find out what is going on with everyone else. Liam will never be able to make a decision, and that's the best thing that Hope can hope for. If Steffy is woman enough to tell him that she's making his decision for him, Hope can have him. He will turn to her in an instant because he cannot be alone, make decisions for himself, or do anything else that might just make him seem like less of a man. But that's all there is to it in our opinion. He's certainly stunned beyond comprehension that this has happened in his own life, but he will not sit back and stay in this place forever. He will actually find himself with Hope in the near future, but we can't get over how good it all was to watch.
What's Happening on The Bold and the Beautiful
.Congratulations to our very own #JacquelineMacInnesWood! We wish her a lifetime of love and happiness. #BoldandBeautiful @BandB_CBS @CBSDaytime https://t.co/vtVD1ga4oo

— BoldInsider (@boldinsider) August 2, 2018
We got to see something really exciting happen when the word was announced, and it has to do with Steffy. Well, it has to do with Jacqueline MacInness Wood, who happens to play Steffy on the show. She turned around and decided to make her own major life decision while she was on summer vacation from filming, and she got married! She actually eloped with her longtime partner, and now she is a happily married woman. It looks like she and her character are making major life decisions that will affect their happiness for years to come. Congratulations!
What's Next on the Bold and the Beautiful
TODAY: Liam expresses his displeasure with Steffy that she gave Hope a sentimental object not intended for her. #BoldandBeautiful pic.twitter.com/7QHCgBJv0D

— Bold & The Beautiful (@BandB_CBS) August 6, 2018
Hope is going to tell Liam something she feels is on her mind, and we hear that her biggest fear is what she's sharing with him. Is there a chance her biggest fear is going to be that she will always be second best to Steffy and never really be the first one in his heart? Will she tell him that she feels that there is a chance that she's upset that the only reason he is turning to her is because Steffy put herself out of the equation and made it easy for him to make a decision? After all, there is no decision to make if there isn't more than one person to choose from, right? And we think that will be her biggest fear. Or it might be that she's afraid her child will end up in a broken situation because of all of this. We do wonder this; is there a chance that Liam will end up alone because his inability to make a decision has both women deciding they don't want to be a choice every single day?
We know that we will also see Steffy take her chance to show off her lingerie line for the first time as she creates a dress rehearsal for the line. She's taking over, she's making a mark, and she's making her business her own. She's not going to allow anyone else in her life to sit back and dictate anything she is doing. She's taking control.
Stay tuned for more The Bold and the Beautiful and be sure to check out TVOvermind daily for the latest The Bold and the Beautiful spoilers, news, and updates.