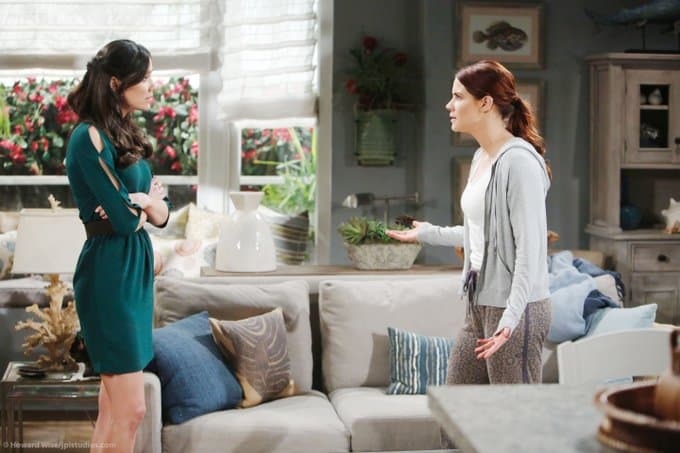 Bold and the Beautiful fans know that Katie has some big objections in her life, and she's got one very specifically with Flo and with Sally. Flo wants to go see Sally and see if they can be friends. She gave up the man she loves because she knows Sally is dying and she doesn't want to do anything that might change the game for her. She has to figure things out on her own, and she has to do this soon, but Katie does not want to see her go make things right with anyone. She doesn't want to see her do this, she doesn't want to see her make the effort, and she doesn't want to see anything make a big change in anyone's lives. She's a mess. We know this. We all know this, and we all appreciate this, but she's doing it anyway. Will Sally be open to this?
Then there is Donna, who had the sheer misfortune to see Brooke do something awful. That something was kiss Bill, who is Katie's man — again. And that is not good news for Donna. Now she is in the middle of trying to figure out how to handle this with her sisters, and we know that it will not end well or be okay with anyone. She will need to figure out how to handle this one and how to do this, and that's going to be a situation we have to deal with. She's going to have to talk to her sister and figure this out, but we don't know that she will believe Brooke when she says that she's got a lot going on. She's not going to believe that she's going to fix this. She's not going handle it well at all. But, we will see.
What's Happening on Bold and the Beautiful
Sally and Penny explode at one another and the devastating truth about Sally is revealed. WATCH FULL EPISODE: https://t.co/GEJzJetp1O #BoldandBeautiful pic.twitter.com/4zVg4mzQCp

— Bold & The Beautiful (@BandB_CBS) March 20, 2020
This is not going to end well.
What's Next on Bold and the Beautiful
Brooke and Ridge's love is stronger than ever, but will it last? See if Ridge finds out about Brooke's secret kiss this week on #BoldandBeautiful! pic.twitter.com/O8ZCsToR8Z

— Bold & The Beautiful (@BandB_CBS) March 15, 2020
Flo is not entirely happy with the way that Sally is with Wyatt right now. She is worried that Sally does not have very pure intentions with the man that Flo gave up in an effort to be a good person who is doing all the right things, and she is about to become a bit fearful that she's going to hurt Wyatt. We won't even begin to point out that she shouldn't be worried about this in any capacity because she should know that he is not with her beause he wants to be but because he's doing her a favor in her final days. But, whatever, this is not what we feel is important right now. What we feel is important is the fact that Donna and Brooke have had a conversation, and they decided together that they need to delete the video that shows Brooke with Bill.
They agreed, together, to keep this a secret. This does not mean in any way that she is happy with her sister, but Donna knows that with Katie's health the way that it is right now, she has to keep this to herself to help keep her sister healthy and happy. But, that's not all, and we think that this is a video that someone else has already found. We think that it's out and we don't think that they are going to be able to delete it at all. We have no hope for any of this right not, to be very honest.
Stay tuned for more The Bold and the Beautiful and be sure to check out TVOvermind daily for the latest The Bold and the Beautiful spoilers, news, and updates.
Tell us what's wrong with this post? How could we improve it? :)
Let us improve this post!