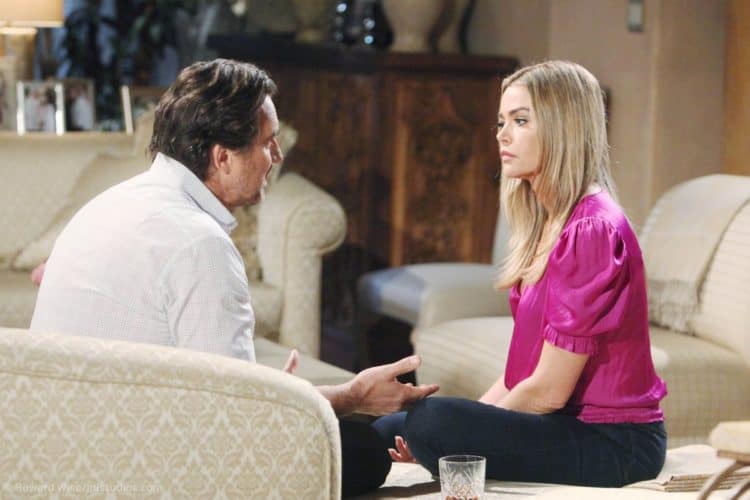 Bold and the Beautiful fans know that there is a lot happening for people right now, including the fact that Shauna is doing all she can for Ridge while his own wife is off doing things for other people. Brooke has always — and will always — put Hope first no matter how much it happens to cost her outside of that. She's losing her husband, and she knows that. But, she cannot be anywhere but there for Hope right now, and she certainly does not support her husband and his life choices in this moment. She's a mess, and her husband needs her as he is dealing with the fall out of his son signing over the custody of his son and the fact that he is now missing. Of course, we know he is not missing. But Ridge just found out that Thomas is gone and he didn't reveal himself to his father.
He did, however, make it clear that he is there and well and that he is alive and teaching Hope a big lesson. But, that is not going to stop the fact that Ridge is currently a mess, and it will not stop the fact that things just don't seem to be working out well for anyone involved in this at all. We know there are so many things that might go wrong, but this is one of those things that we cannot see happening well for anyone other than Shauna. If Ridge doesn't decide to divorce his wife before Christmas, he will at least have already taken Shauna to bed and begun and affair with her that his wife will not be happy about. And all because his wife cannot get on board with supporting this man and the problems he's dealing with because of his son.
What's Happening on Bold and the Beautiful
He's baaaaaack. 🙌 Who's excited to see what happens next on #BoldandBeautiful? pic.twitter.com/3qWWDcwkIn

— Bold & The Beautiful (@BandB_CBS) November 20, 2019
We just love him as Thomas.
What's Next on Bold and the Beautiful
Could this really be the end of #Bridge and the start of something new? 💔 Tune in to #BoldandBeautiful this week to find out! pic.twitter.com/ODK4SQdz8B

— Bold & The Beautiful (@BandB_CBS) November 17, 2019
Hope and Thomas have to tell Douglas a little something, and we don't know how Thomas is going to take this. We know how Douglas is going to take it. He's the happiest little boy in the world now that he is going to find out that Hope is his new mommy. There's a lot that this little boy doesn't know, but this is a moment that he's been waiting for and it's one she's been waiting for. We aren't so sure, however, that many other people are as excited about this as these two are, and we cannot see that this is going to go over well in the future of her life. Ridge and Brooke are going to have a very emotionally charged moment today, and we have a feeling that things will be forever changed after this.
This is going to be a turning point in their situation, and we don't think they are coming back from it. We don't know if it's going to be yet another fight between them, if they are going to be very honest with one another about their feelings, or if one of them is simply going to look at the other and admit that this is not working, it's not good, and it needs to end. We can see it happening all kinds of ways, but we don't know how to focus on anything other than the mess we think it will turn into before the holidays arrive. It's not good news for them, but it might be the single best thing they do all year to end this.
Stay tuned for more The Bold and the Beautiful and be sure to check out TVOvermind daily for the latest The Bold and the Beautiful spoilers, news, and updates.