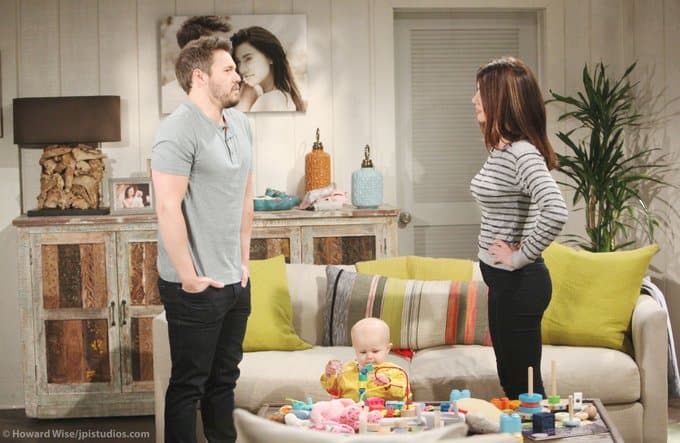 Bold and the Beautiful fans know that Steffy wants to think that her brother is a good person. She wants to believe that Thomas has changed, and she wants to believe that he is a person who will do anything and everything he can to win and be the person he is, and that he is the kind of man who will be better. She wants to believe he will never use his son again to get what he wants in life, and that he will never pimp him out again for personal gain, but she's just overheard a conversation that takes all of that belief away from her and makes it impossible for her to believe he is a good person. He's a man who will never change, and his recent conversation just made that very clear to her. To say she is upset and disappointed is an understatement, and we cannot help but feel for her.
Then there is Hope, who is back to Liam. She just had it out with Thomas over the fact that he wants to get married right now. He wants to get married right this second to Zoe so that Hope will be mad and jealous and upset, but she's not in a place where she' ready to make a decision. She's mad because his son is upset, and she's had a fight with him, and then she's gone running to Liam for support. Liam does not support this, and he has no sympathy. He's made it clear how he feels about Thomas and her desire to be Douglas' mother when she already has a baby of her own to care for, and he's not happy with her. She's not sure what to expect of him, but we know he's done being patient with her.
What's Happening on Bold and the Beautiful
😍😍😍 #BoldandBeautiful pic.twitter.com/UuyBz6sXMV

— Bold & The Beautiful (@BandB_CBS) March 4, 2020
Be still my heart.
What's Next on Bold and the Beautiful
The wedding planning begins this week on #BoldandBeautiful. 💍 Don't miss it! pic.twitter.com/JjNuK22HzA

— Bold & The Beautiful (@BandB_CBS) March 1, 2020
Zoe is a woman who is totally in love with Thomas, and she's not sure that he's not in love with her. He's managed to convince her that he, too, loves her and that this is nothing to do with Hope anymore, but she's not hearing anything but that it's about her and he loves her. Carter, on the other hand, is not a man who believes anything that Thomas does, says, or wants. He's trying to tell Zoe that she's better than this. That she can do better than this. That she is not the kind of girl who is being forced to settle for someone who is not good enough for her, so why is she marrying a man who is clearly using her? Of course, she hears nothing of the sort, and she's perfectly happy with the man she is about to marry. This is not good news for anyone.
Then there is Thomas. He and his sister are in the middle of having a conversation that is nothing short of totally heated. There is nothing about any of this that is going to end well for them, that is going to cause them any sort of happiness, or that is going to work in their favor at all. She heard him, and she's not happy. She knows that his intentions are not good, and that his past transgressions are worse than she feared before. She's not thrilled with him, and he is not thrilled that she knows what he is up to, but he cannot worry about that it in his time of need.
Stay tuned for more The Bold and the Beautiful and be sure to check out TVOvermind daily for the latest The Bold and the Beautiful spoilers, news, and updates.