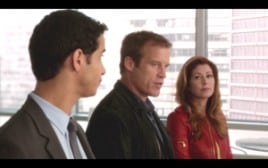 Like many fans of Body of Proof I was pretty dumbfounded by the cast restructure that occurred at the beginning of Season 3. Not only did the creators leave us on a cliff hanger last season, but they did the unthinkable and actually allowed Peter to die. So when it came to the new season I was very noncommittal. While the jury's still out as to the certainty of renewal for a fourth season, I think episodes like tonight's "Disappearing Act" are a prime example of the need to sometimes take extreme measures to progress the life of a show.
The writing this season has been brilliant and tonight's episode (penned by Christopher Murphy) delivered a complex, twisting storyline that not only kept us guessing but also unravelled the mystery surrounding the death of Megan's (Dana Delany) father that little bit more.
I'm one of those people who always tries to work out who the killer is in the first 5 minutes of a show (and without sounding too arrogant, I'm usually right in the end), but it's also about the journey. Tonight's episode centered around the abduction and murder of a high-profile investment banker (Gerry Roberts, played by Christopher McDonald), with Tommy Sullivan (Mark Valley) and Adam Lucas (Elyes Gabel) being caught up in the apparent failure of the police to protect the victim against the angry mob.
I've found it interesting that Tommy's competence as a police officer has been called into question in the last couple of episodes, as it creates a tension in which the good guys are not only fighting for criminal justice, but also for their own names. This is building an interesting subtext to the show with a battle being waged on two fronts – one against the world of crime and the other with those who should be supporting them anyway. Or should they? Is this asking a bigger social question of whether we should simply be able to rely on the confidence of our superiors without question? Isn't this where some of the big problems have come from in recent years, where we've just trusted that others are doing a good job without any accountability until it's all too late? (Wall Street – are you listening?) Perhaps I'm reading too much into what is essentially a great prime time drama. Personally I don't like the character of Chief of Police Angela Martin (Lorraine Toussaint), but isn't she just doing her job? Maybe that's the point and she is the sort of necessary evil that the show needs?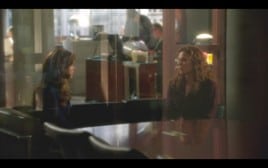 Throughout the episode Dana Delaney continues her highly underrated performance as Megan. On one hand the ME is working tenaciously to find the killer, but on the other she shows considerable tenderness to the wife of a suspect. She delivers feisty bite-backs against Chief Martin's condemnations and then finishes the episode in an almost child-like state as she waits to find out whether or not her father truly committed suicide.
The chemistry between Hunt and Sullivan also continues to build in this episode. Like so many other fans I had wanted to see Megan and Peter develop a stronger bond in previous seasons. However, the best the partners ever seemed to attain was a sibling-like relationship. Tommy and Megan however, not only have a history together, but Tommy also manages to find the balance between admiring the ME without putting up with her sometimes snippy attitude. Megan shows obvious concern for Tommy when he's suffering from the effects of the tear gas used in Robert's abduction but still holds her own against him when they come to loggerheads about who needs to provide whom with evidence in order to solve the case.
The new team this season as a whole work really well together. While Megan continues to step on everyone's toes at times, I loved that all the characters played a notable part in solving the case, whether it be Adam flirting with the FBI analysts (are super-model looks a prerequisite for FBI employment?) to get technical evidence or Kate Murphy (Jeri Ryan) sticking up for Megan against Chief Martin, in spite of the damage it make cause her political career. Ethan (Geoffrey Arend) no longer lets everyone walk all over him and Curtis (Windell D. Middlebrookes) doesn't continually bustle around trying to prove he's the boss. In general it doesn't feel like there are two separate crime fighting teams as it occasionally did last season.
My only real complaint about "Disappearing Act" is Megan's ongoing saga in her relationship with her mother. Joan Hunt (Joanna Cassidy) always seems to bring out the petulant teenage side of Megan which can be quite tiresome to watch every time the mother appears. Other than that small issue I believe that ifBody of Proof continues to produce episodes that are witten and performed as well as "Disappearing Act" there is a good chance for this drama to gain a season four.
Tell us what's wrong with this post? How could we improve it? :)
Let us improve this post!