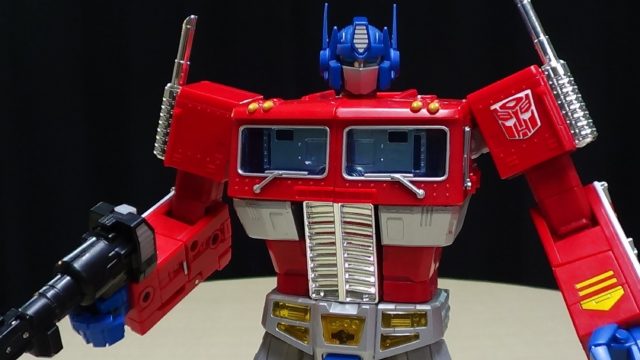 Why didn't the Transformers toys do this when we were kids??? This is just way cool, enough so that it might only get cooler if someone could actually make it walk. Of course then it might freak kids out or make them jump for joy since they would believe that Optimus Prime had somehow come to life. Seriously this is something that I wish we would have had when we were kids. You could have been the coolest kid on the block with this toy, and you know other kids would have been begging you to play with it.
But then it probably would have been your entire Christmas, birthday, or whatever all by itself, because I can imagine that something like this must cost a bundle. To a lot of collectors and Transformers enthusiasts it's probably more than worth it, but just think about how much goes into each one and how much that would translate out to be since you know the toy manufacturer wants to make a hefty profit.
The novelty of it is great. If you ever played with Transformers in the past you can probably recall that some of them were so complicated it was like another version of a Rubik's Cube. Some toys would forever be stuck in one mode or somewhere in between if the kids got bored or just couldn't figure the thing out. That's only issue with toys that have moving parts like this, but especially Transformers. You need to be able to actually transform the toys into what they're supposed to be.
And seeing this now I have to wonder, since they went old school with Optimus, would they do the same with the other Transformers? Keep in mind that Megatron transformed into a gun. The effect would still be cool if they could make it work but the idea of a kid holding a toy gun when their robot transformed is a little bit iffy simply because of the times we live in. Megatron has obviously been reconditioned into new forms so if it did happen it might be best to leave old school out of it.
But if the same people that did this could do it with other Transformers it's possible to think that they would have a brand new toy line to market if they could find a way to keep the cost down and make it affordable for people. Like I said though this would be something special not just an everyday thing. Kids would be likely to save up their allowance (kids still do that right?) in the anticipation of taking this toy home. If toymakers could find a way to perfect and continue this line in some way they would have the next big thing in toys, and a product that would be likely to be on the top most requested list for millions of kids around the world.
Seriously, it's that awesome.
Here's another video of the Transformer pre-paint job, executing the move in reverse.