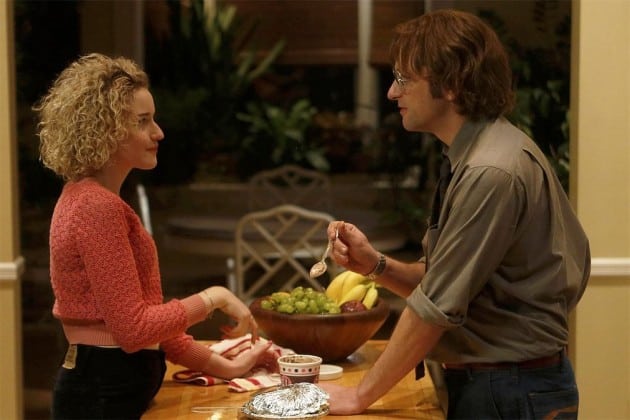 As Philip gets sucked into some of the more murky aspects of his job as an undercover agent, Gabriel points out the obvious-but-difficult truth when struggling with personal morality:
"You have a conscience, Philip. There's nothing wrong with that. But conscience can be dangerous."
What danger means in this circumstance isn't only the usual kind of physical danger we think of when presented with the word. What's dangerous for Philip extends well beyond physicality into his emotional and mental lives. That in and of itself would be enough conflict to be pushing Philip into difficult, stressful territory. The fact that he has to masquerade as other people with their own emotional and mental lives makes Philip's position in The Americans right now almost untenable.
Those lives happen to be coalescing at an unfortunate time, when dealing with the very real possibility of exposing Paige to the KGB's operations adds more frustration to Martha's push to adopt a child and playing Kimberley, 15 years old, for a chance to bug her father's briefcase. Elizabeth has shown more of a willingness to go along with indoctrinating Paige, but that speaks to the kind of person she is. Philip subverts traditional gender roles and has proven himself to be the more contemplative and emotional version of his kind of character; his issues regarding pretty much anything having to do with young people who aren't intellectually mature being made clear. But he's been willing to bend some of those ideals with Kimberley, and he's appearing slightly more accepting of what Martha is doing (you can see his thoughts and memories of his own kids before he verbalizes them to Elizabeth later while he's at the adoption agency). That doesn't necessarily mean he's going to budge with Paige, but something has to give, and this season of The Americans has shown little to no sign of challenging her beliefs to the same degree that it is challenging Philip's.
While we've seen flashbacks for both characters in the past, Elizabeth has had more that are personal to her (we've seen Philip before, but at the time when he was getting to know Elizabeth and being briefed/trained for their move to America). The pressure of having to perform what's asked of him has Philip thinking about the ways in which he's had to "make it real" with his targets, assets or other individuals to complete his job. It's a surprisingly effective technique in "Salang Pass," because it's another one of those narrative details that we've filled in ourselves until this point. The graphic nature of the reality–training with people of all ages and gender–is a much more affecting way of showing how our main characters have to switch off that I, at least, had considered. Philip has yet to compromise a job because of his comfort level, but living in America with his family, makeshift or otherwise, has to be causing him to backpedal or dull some of those abilities. He's slept with people who aren't Elizabeth in The Americans, sure, but nothing has been on the same level as what's potentially to come with Kimberley.
Shockingly, "Salang Pass" manages to navigate all of this without feeling icky, for lack of a better term. Kimberley actually gets one of the episode's best pieces of dialogue in the form of her own trip down memory lane back to when her real family was still intact, her mother alive and her siblings still around. It's the one sequence we've had with her in which she isn't on the play, trying to seduce Philip; she's vulnerable and wholly sympathetic as a young character who has somehow still had an interesting, complicated history that makes her more than a device for the story. This is not to say that the episode or series is building an opportunity for the pairing of Kimberley and Jim to be something that the audience should swallow and be okay with, but turning Kimberley into a real character makes that part of the story less black-and-white. She's not just an immature girl, who has a father in the CIA, trying to hook up with an older guy. She's also someone whose actions are defined by a void in her life. Her mother is dead, her stepmother has displaced some of the best parts of her childhood and her father is always away on business that she's been lied to about. In many ways, she's just as damaged as the rest of the adult characters in The Americans who are trying to find some kind of connection to anything or anyone.
Now that Stan has realized his own connection with his ex-wife is gone, he's pursuing Nina more actively, finding Oleg and trying to orchestrate a way to bring her back. Both characters still love Nina, which is stated in their exchange, and both are willing to let their own consciences become obstacles in their professional lives, just as Philip is. This might work a little less well than Philip's personal conflict, but that has more to do with how much attention the series has devoted to Philip compared to Stan and, especially, Oleg. The parallels are there, though, and if their stories are projected to align in the direction of Nina this season, it puts a greater emphasis on the interpersonal drama of The Americans, which is something I greatly appreciate, since the plot is already so fine-tuned and the relationship between Nina and Oleg was something I thought was unusually underdeveloped last year for a show as sharp as this.
Covert Observations:
– Henry asks Stan a question about Sandra shortly after we've seen him with a picture of her. Awwwkwarrrd. Let's change the subject.
– Oleg is the only Soviet character (who isn't undercover) who doesn't default to vodka. Here, we see him pull out the Johnnie Walker. Like Philip, he's really taken to Western culture.
– "Your taste is ridiculous, Dad." If you could have only seen some of his undercover outfits, Paige.
– Stan doesn't understand his son, Matthew. The comfort level in Stan and Philip's relationship continues to be one of the smaller joys of watching The Americans. I hate the prospect of putting the two characters at odds down the line, whenever (if ever) Stan finds out about who Philip is.
– "Do you have to make it real with me?" "Sometimes. Not now." The Americans, like Hannibal and a couple other shows, really knows had to end an episode with a whisper.
[Photo via FX]