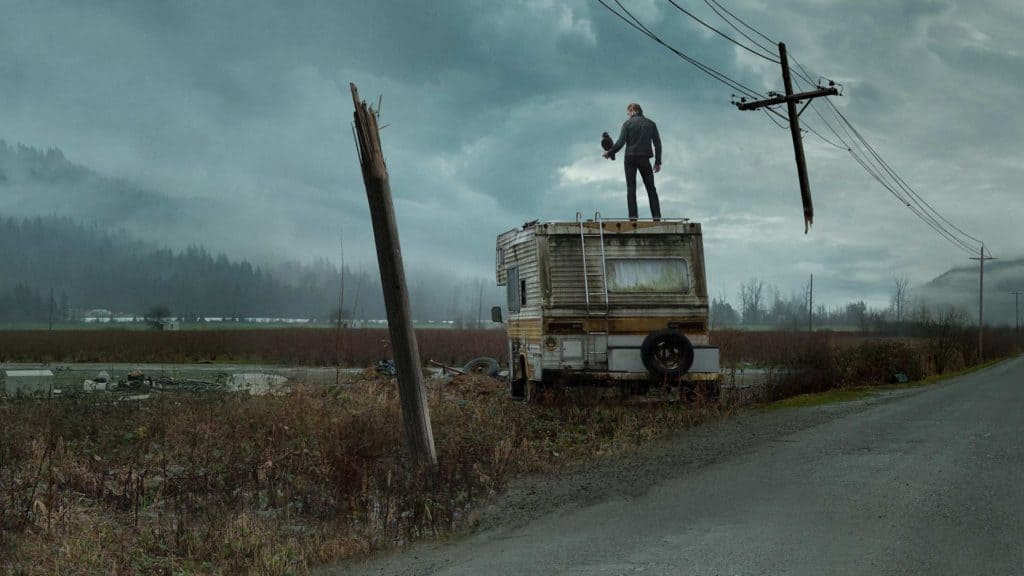 It's interesting to see that episode 3 of The Stand on CBS All Access is titled 'Blank Page' since from a certain standpoint it might be true, but from the idea of those that had to first survive Captain Trips and then find a way to push forward, it feels as though they're living in the epilogue of a tragedy in which the only blank pages that exist are those that are currently being written by the survivors. So yes, in other words, it's an accurate title. But as the show rolls on it's beginning to take a slight lean towards what some might call is the aftermath of a PC era in which people were regulated and pushed to such extremes that trying to break free of that conditioning is likely to push them towards Flagg's side of the line, while those that are conditioned but free-thinking enough to realize what total anarchy can mean will stick with Mother Abigail. It's a fine line to ask anyone to walk to be certain, but tipping to one side or the other isn't as easy as one might think since some things have already been predetermined, while others are apparently being played out one whim at a time when it comes to the main characters and how they've come to affect the story.
We did finally get to meet Nick Andros in a greater capacity and discover his back story, which is far less detailed than it was in the initial miniseries but a lot more brutal since he's lost the use of his right eye. His initial meeting with Tom Cullen brings to mind the kid, Russell, from Up, as he feels the need to keep reciting the same explanation of why he is the way he is and why he can't understand people if they're not direct and so on and so forth. Let's put it this way, Brad William Henke is a good actor and someone that can definitely make a person believe in him, but as of right now he's likable, but no Bill Fagerbakke, who took the character of Tom Cullen and just ran with it. Maybe in the next few episodes, he'll become a more integral part since in this episode he came on so strong that the audience might have felt the need to put their hands out and just say 'whoa'. Nick's story has gone by so fast at this point that it feels as though a great deal was cut out and we're simply left with the bare bones, and the fact that he's had such a hard go of life that not believing in God is kind of natural, but being kind and patient is simply amazing. In a sense, Nick is the guy that forgives or at least seeks to help people rather than take revenge when they're down.
The manner in which Whoopi Goldberg is playing Mother Abigail is a little more forceful than that of Ruby Dee, as she looks and sounds more like an authoritarian than a peaceful old woman that's there to serve as a guide, especially as she tells one of the women in the hospital to take her hands off of her while she's walking. In this manner, she sounds more like someone's irritable grandma than the kind old woman she usually comes off as, but it could be one side of her character that we just haven't seen yet. Plus, her dealings with Flagg are coming to light slowly but surely, since in the original miniseries the two did face-off, and it was evident that Abigail knew she was up against something beyond her, but she wasn't going to be swayed. There's definitely more of an edge to this version of The Stand than there was back in 1994, as the stakes appear to have been raised a bit and the people are a little harder, a little meaner, and definitely far more pronounced as Harold Lauder's good guy act isn't fooling the young kid, Joe. In fact, Joe is even leery of Nadine, as he should be considering that she was chosen by Flagg when she was still a girl thanks to the flashback, which is a little disturbing, to say the least. But the plot is moving forward in a big way since near the end of the episode it's made clear what Flagg wants Nadine to do, and that's to seduce Harold, to stoke that fire of hatred that he has for everyone in the Boulder Free Zone, and to enact a revenge of such magnitude that it's bound to create a serious power vacuum in the town.
Despite having just met him, Glenn Bateman has also proven to be an affable character, but his misgivings feel more than a little appropriate, even if Mother Abigail doesn't appear to think so. All in all, the whole mess of humanity getting back up and running is a blessing, but also a curse that humans can't really run away from.