Sophie Flay has proved her mettle as the daughter of a television icon who has carved a career in that niche herself. A perfect chip off the old block, Flay may not be a celebrity chef like her father but she has followed his footsteps to launch a career in the television industry. Flay grew up with a father who is renowned for his contributions to many TV shows on Food Network and subsequently made a few appearances with him.
The years she spent in front of the camera with her reality television star father rubbed off on her. She developed a passion for television and food but she didn't consider cooking as a career option. Instead, Flay chose to be on television as a broadcast journalist. Explore some truths about Bobby Flay's daughter below.
Meet The Daughter of Acclaimed Food Network Star and Culinary Expert, Bobby Flay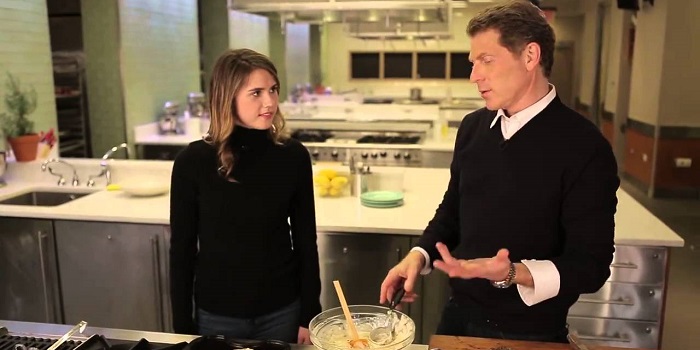 The only child of her celebrity chef father, Sophie Flay was born on April 16, 1996, in New York, USA, to Bobby Flay and his second wife Kate Connelly. She has an older stepbrother named Jonathan from her mother's side. Flay is of Caucasian ancestry from both sides of her family. Her celebrity chef father is a fourth-generation Irish American who was raised in a Catholic home.
Sophie Flay got her college degree from the University of Southern California where she studied Broadcast and Digital Journalism from 2014 to 2018. She was a member of the Delta Gamma sorority in college and joined an acapella group known as The Sirens. Flay probably developed her interest in television after spending a lot of time with talented people on TV. Her father is not just an American celebrity chef and restaurateur, he is also a popular reality television personality. He always carried his daughter along on his journey to fame.
Bobby Flay owns many food franchises, including Bobby's Burger Palace, Amalfi, and Bobby's Burgers. Most notably, he has been working with Food Network since 1995, appearing in such TV shows as 3 Days to Open with Bobby Flay, Throwdown! with Bobby Flay, Bobby Flay's Barbecue Addiction, and Bobby's Triple Threat. His contributions to the network have won him multiple awards, including four Daytime Emmy Awards. He also has a star on the Hollywood Walk of Fame.
Appearances On Her Father's Shows
Sophie Flay is a regular guest on her father's television shows. She debuted on television at the age of 17 when she appeared alongside her father on The Rachael Ray Show. She later appeared in one episode of America's Next Great Restaurant as a food taster. The show was co-hosted by her father on NBC. She has participated as a guest in some of her father's Food Network shows, including Brunch @ Bobby's and Beat Bobby Flay, the latter of which she was also a judge alongside chef Sunny Anderson. The two series – The Flay List and Bobby and Sophie on the Coast follow Flay and her father as they explore each other's favorite cuisines and eateries.
Sophie Flay's Relationship With Her Father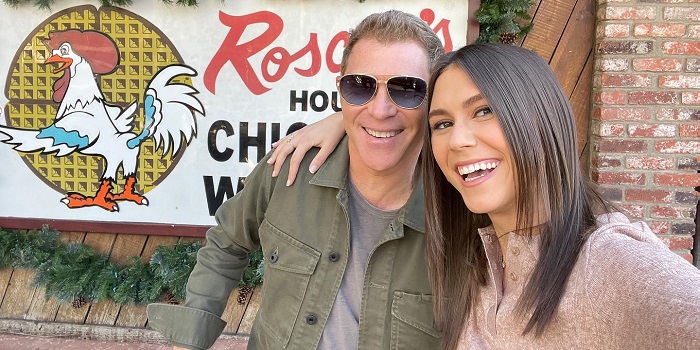 More than just sharing a unique father and daughter bond, Sophie Flay and her father, Bobby Flay have a lot in common. Top on that list is definitely their love for good food. The duo who often work together launched a podcast in 202 titled Always Hungry. They discuss their love for food on the podcast and how it connects them in a special way. While food is an important topic on the podcast, they also talk about random things like parenting, childhood, and life in general. Overall, Flay enjoys a good relationship with her father, a feat they proudly credit to maintaining healthy communication between them.
Sophie Flay's Career As a Journalist
Growing up among entertainers piqued Sophie Flay's interest in television at a young age. Thus, it doesn't come as a surprise that she is thriving as a journalist. After studying broadcast and digital journalism at the University of Southern California, Flay worked as an intern with NBC News, Dash Radio, and NBC Sports. As a student intern, she covered the 2016 Summer Olympics in Rio de Janeiro and the 2018 Winter Olympics in Pyeongchang for the TODAY Show. Flay currently works as a community journalist for ABC7 in Los Angeles.