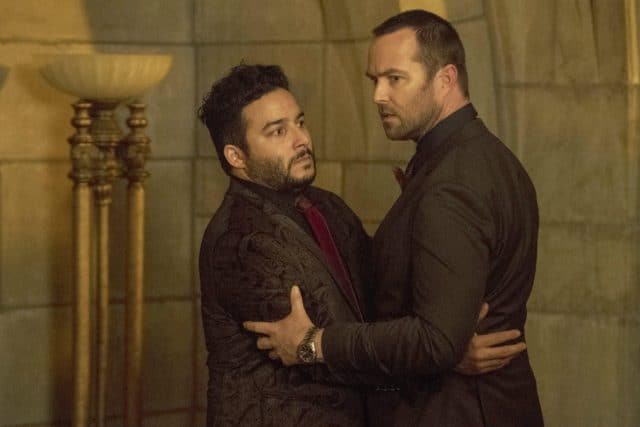 Some of my favorite episodes of Blindspot have been those that feature Rich Dotcom, and he makes his long-awaited return this week. Let's take a look at what happened in the newest episode of Blindspot, "Borrow or Rob."
For all that we know about Rich Dotcom, there's also a ton that we just don't know. We get to find out a lot more in "Borrow or Rob," though, as the episode contains some prequel aspects that simultaneously advance the overarching story. We get to see a flashback to 2001 that gives us a glimpse of a pre-"Rich Dotcom" Rich Dotcom trying to sweet talk his way out of a fairly precarious situation with some cops before getting tased, and it's a great look at the evolution of the character. We jump back into the current timeline, though, and see part of the team (specifically, Nas, Jane, and Roman) attempting to unlock any Shepherd memories (now that they know her real identity) in Roman or Jane. The rest of the team is working on a new tattoo mystery, and the mystery leads them back to none other than Rich Dotcom (something that Weller, of course, is unhappy about). The team is forced to work with Rich to stop a secret society from starting a war. Everyone works together to discover that the society will be meeting during a winter carnival, and they decide to track down a suspect, Zach Riley (the owner of an electric car company), to see if they can figure out the details of the upcoming attack. I really love the dynamic that Rich brings to the team, and, while there would be the potential for the bit to get old, I really think that he would be a great permanent addition to the group.
Rich and Weller go undercover (with Rich pretending to be Weller's husband in a super fun plot device), and Patterson works with Rich's cohort Boston at the same event. In a lot of ways, the story is like a heist movie, and stories like this seem to work more often than not on Blindspot. The mystery takes some twists and turns (Zach Riley has sold his company, so he wouldn't benefit from the impending war), and Rich ends up handcuffed to a statue while Weller takes care of business. Rich is captured and nearly forced to set off a bomb, but Weller, as he should, saves the day, and the team is able to stop nuclear war. In the end, Rich attempts to help the FBI more, giving the character a bigger importance on the show (luckily for us) moving forward.
While the rest of the team deals with the secret society case, the other three have traveled to Roman's childhood home. Their journey is a key to unlocking more of Roman's backstory, and, as I've mentioned before, I've found myself much more involved in this story than I expected (considering how much is more or less a retread of Jane's early arc). The payoff of this journey is that we find out Roman killed Taylor Shaw's (remember her?) mother, and this definitely adds a fun wrinkle to the story that calls back to a big subject from the show's first season.
The episode ends in a cliffhanger with a returning Borden that ties the somewhat standalone A-story of the episode into the larger Sandstorm mystery, and I found myself enjoying the episode a lot. It had its down moments (as much as I love exploring Roman's story, it really is a retread of Jane in so many ways), but I like the way that everything is still advancing.
What did you think of this week's new episode of Blindspot? Are you glad Rich Dotcom got another episode? Let us know your thoughts in the comments down below!
[Photo Credit: NBC]
Tell us what's wrong with this post? How could we improve it? :)
Let us improve this post!