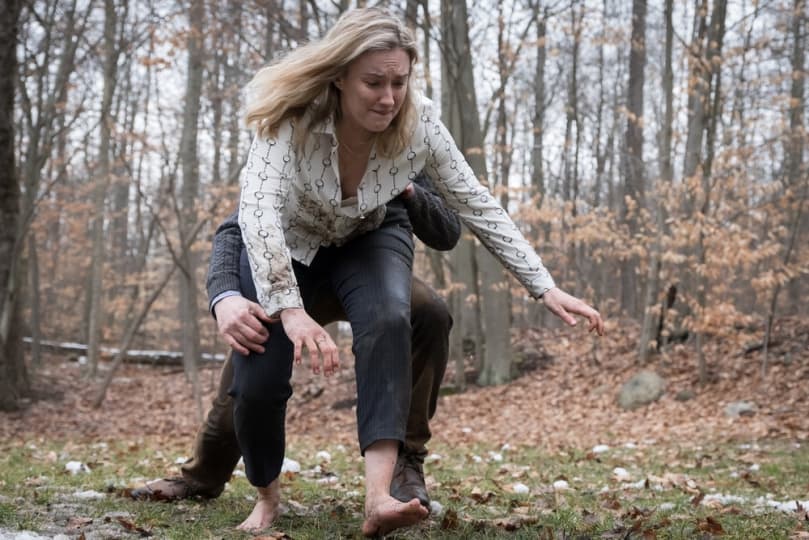 I make it pretty obvious that Patterson is my favorite character on Blindspot, so I've been hyped up for this episode focusing on her since the previews last week. With that said, let's take a look at what happened in tonight's new episode, "Mans Telepathic Loyal Lookouts."
The episode opens with Patterson realizing, after her "conversation" with David, that her deceased boyfriend solved one of Jane's tattoos in secret. After this realization, she, of course, decides that she's going to follow his clues and figure it out on her own. The journey that she takes in the episode is wonderfully compelling, and I love the way that the writers are allowing David to still play a part on Blindspot after his death. The chemistry between these two characters was one of the best parts of the first half of the season, and it would have been a huge shame to never get to experience it again. "Mans Telepathic Loyal Lookouts" also does a great job of developing Patterson even further, and I absolutely love the strength that the writers have given this character. I also really liked the way that they avoided putting her in a damsel-in-distress situation, even though that would have definitely been the easier way out. She still requires some saving in the episode, but it's done in a way in which she also has to save the others. Instead of being one-sided (as these stories too often are), it's very much a mutual takedown.
Relationships also continue to play a big part on Blindspot, with Jane, Kurt, and Kurt's sister all experiencing very different stages of relationship drama. Even the director gets in on the action (pun unintended), which is a nice change of pace from her typically work-oriented focus on the show. Because of the episode's structure, we spend a ton of time with the characters individually living their lives apart from the others, and the fact that you never think to yourself "I wish the plot would put everyone back together" is a real testament to how well Blindspot has developed its entire main cast. I didn't even realize this myself before tonight's episode, so it was a very welcome surprise. Everyone is still brought together to resolve the Patterson situation, but every decision felt wonderfully organic.
After being teased earlier, Aaron Abrams more fully joins the Blindspot family in "Mans Telepathic Loyal Lookouts," and I, for one, am thrilled. Blindspot tends to do a great job with its guest characters, and having Aaron Abrams in a role that will use his talents properly is a Godsend. We still don't know a ton about Abrams' character, but it's clear by the end of the episode that he's going to play a big part in the season's final act.
"Mans Telepathic Loyal Lookouts" was just about as close to perfect as an episode of Blindspot can possibly be. Every character got his or her own strong story, and the focus on Patterson was absolutely phenomenal. Without a doubt, this was the best episode of Blindspot so far.
What did you think of this week's new episode of Blindspot? Let us know your thoughts in the comments down below!
Blindspot Season 1 Episode 17 Review: "Mans Telepathic Loyal Lookouts"
Summary
Thanks largely to its focus on Ashley Johnson's Patterson, "Mans Telepathic Loyal Lookouts" is the strongest episode that Blindspot has delivered so far.